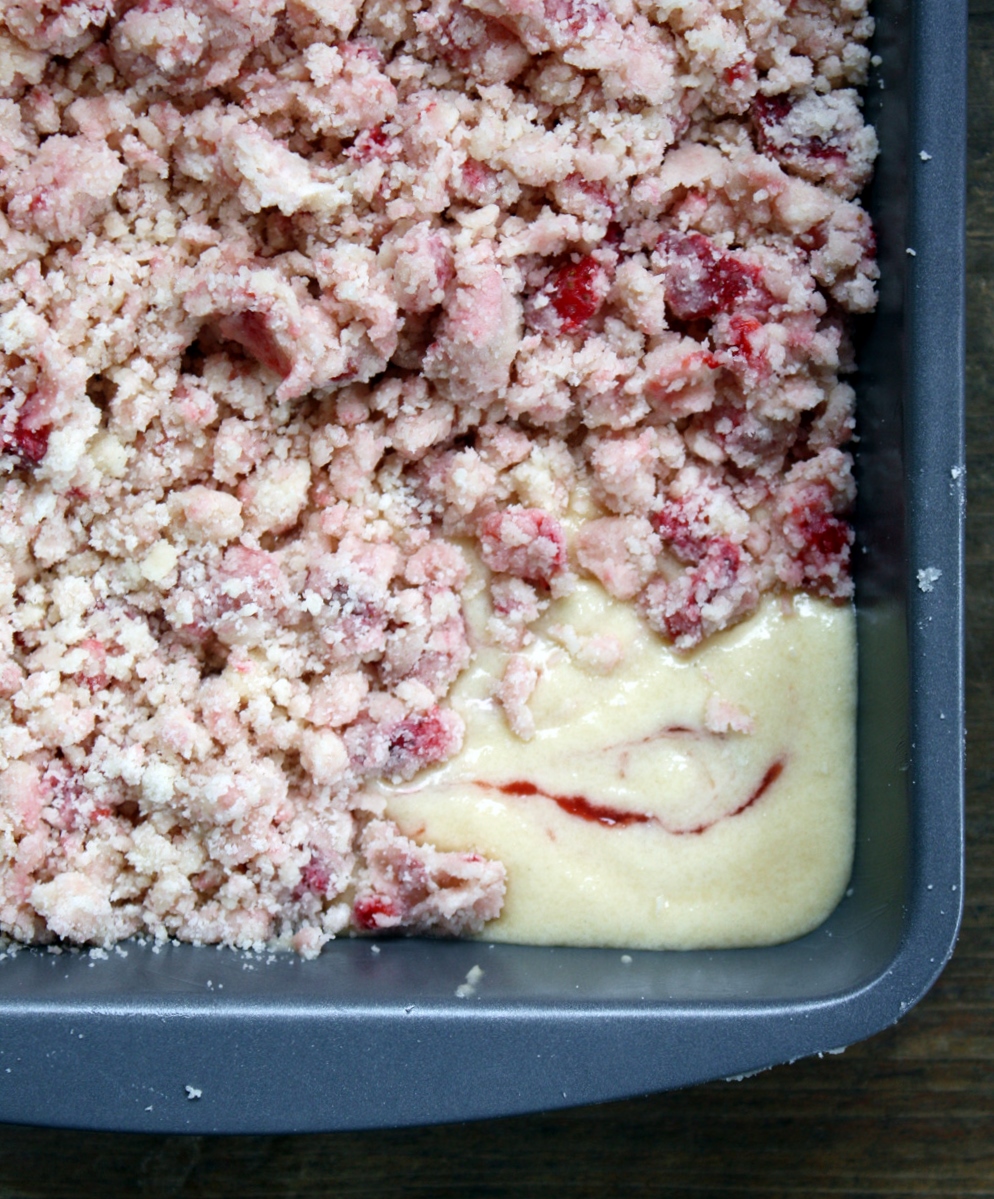 Strawberries are ripe, ripe, ripe in my neck of the woods. Every farm stand along my tuesday evening route, touts the sweetest and freshest, organic berries. I can't resist. Particularly because i make a really great strawberry-rhubarb jam, that disappears faster than anything else in the pantry. I grab loads of the juicy red fruit whenever i find it. Being as we spend most days at the ranch counting idle minutes on one hand, it feels less guilty to indulge in a bit of sweet at day's close. When i have a moment, I bake a cake like this one. It is a simple twist on a classic crumb cake, using the sweet ripe fruit of the season in its crumb.
Strawberry Crumb Cake
cake
1 1/4 cup cake flour (sifted, then measured)
1/2 cup granulated sugar
1/4 tsp baking soda
1/4 tsp kosher salt
3/4 cup unsalted butter (room temperature–cut into cubes)
1 large egg
1 large egg yolk
1 tsp vanilla
1/3 cup buttermilk
4 tsp of your favorite strawberry (or strawberry-rhubarb) jam
Place the flour, sugar, baking soda and salt in a stand mixer fitted with paddle attachment. Quickly give it a few turns to incorporate everything together. Add the butter. *the butter should be softened, but not warm and creamy. You want it to mix into the flour mixture making more of a clumpy sand consistency, then a creamed. Mix the ingredients until the butter is finely incorporated into the flour mixture. Meanwhile, combine the buttermilk and vanilla. Add the whole egg and the egg yolk to the flour mixture and mix until incorporated. Use a spatula to scrape down the sides and bottom of bowl to ensure there are no dry spots. With the mixer on low speed, add the buttermilk/vanilla mixture and mix until just incorporated. Do not over mix pour into a 8×8 buttered square cake pan. Strategically plop the 4 tsp of jam you can add a bit more if you like in the batter. Run the back of a butter knife through the cake batter to swirl the jam through evenly. Set aside while you prepare the crumble.
crumble
3/4 cup granulated sugar
1/2 tsp kosher salt
2 cups all purpose flour
10 Tbs unsalted butter–fairly cold–cut into 1/2″ pieces
1 cup fresh ripe strawberries–cut into 1/4″ dice
Mix together the sugar, salt and flour by hand in a large bowl. Drop in butter and either work in by hand, or use pastry knives/fork/blender to make fairly large crumble. Tip in the strawberries and work in by hand, using a bit of a firm hand, to get them mixed up well in the flour mixture. Don't squeeze and knead, you do not want to warm the butter, but allow the strawberries to fully incorporate into the crumb. Gently pile on top of the cake. Some of the crumbs will sink into the cake as it bakes, which is why i make SO MUCH CRUMB!
Bake in a 375F oven for about 35-45 minutes. Check after 30 minutes and keep an eye on it. The cake is moist, so it can tolerate a bit of over baking, but don't forget to keep an eye on it. Check by using a toothpick or wooden skewer to see if it is done baking. Allow to cool completely before eating