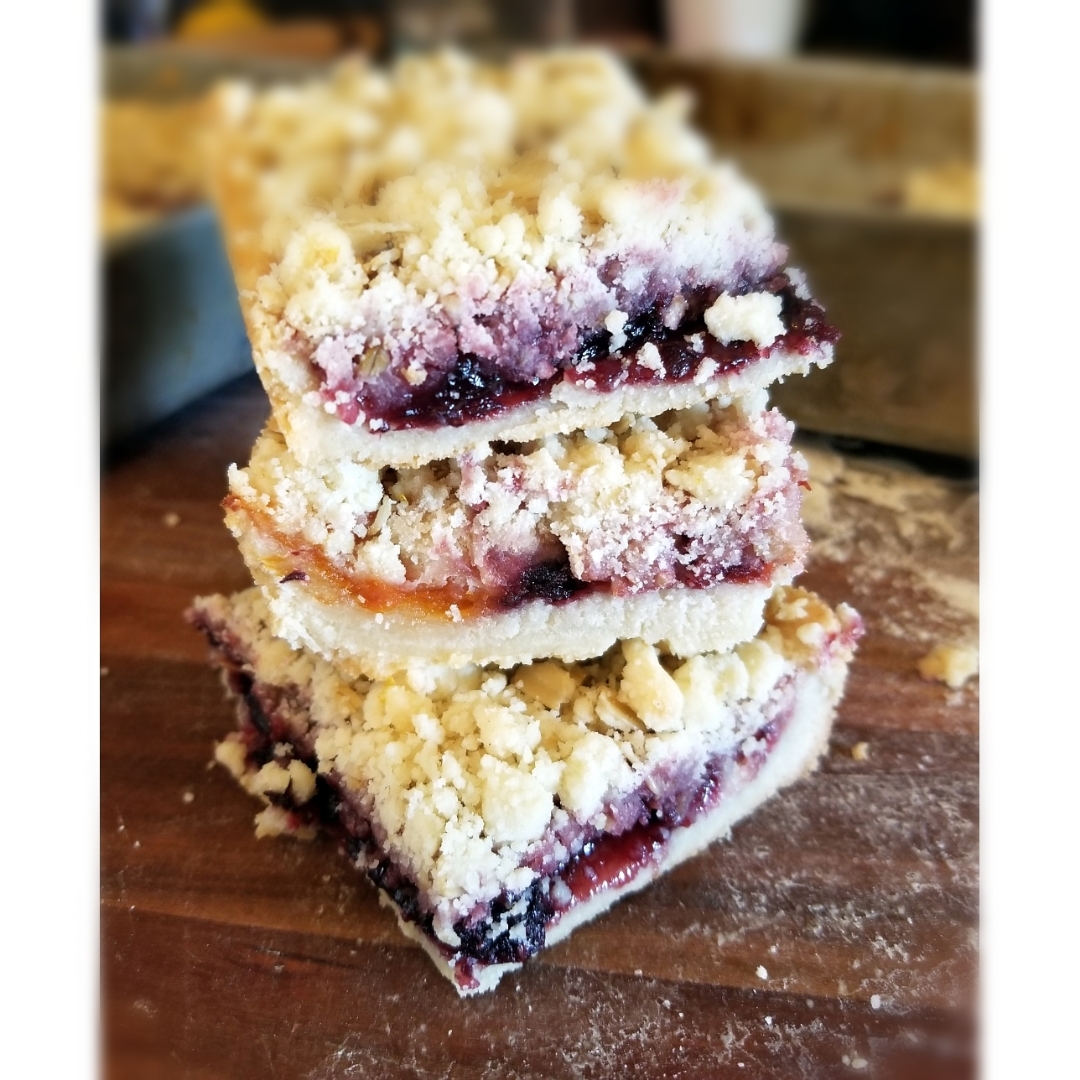 Being a person that spends the summer and early fall preserving fruit in the form of jam, while also being a person that eats very little jam is the dichotomy I find myself to be.
I do however love things filled with jam; scones, hand pies, thumbprint cookies are all things I love. I also love these jam bars. This is a great way to use up the half-empty or "just a smidge" left jars that may be occupying the top-shelf in your refrigerator at this very moment. If you purchase a jam specifically for these bars, please splurge a bit; you do not want to use a jam that is sticky-sweet.
Jam Bars
makes 9 large bars

1 cup unsalted butter–room temperature
3/4 cup granulated sugar
3/4 tsp kosher salt
1 1/2 tsp vanilla
2 1/3 cup all purpose flour or 2 cups all purpose and 1/3 cup whole wheat
1 1/2 cups of good jam (single flavor or mixture)
1/2 cup rolled oats
1/2-1 tsp spices–use is optional. choose spices that are complimentary to your jam. I find ginger, cardamom, and cinnamon work well with most jams, but you can be as creative as you like, or omit altogether.
1/2 cup toasted and chopped nuts–optional

Preheat the oven to 350F. Spray the bottom and sides of an 8 or 9″ square cake pan (the 8″ will result in thicker bars).
Cream the butter, sugar, and salt together. Add the vanilla, scrape down the sides of the bowl and mix well again. Add the flour all at once and mix until just incorporated.
Press about 1/2 of the mixture into the bottom of your pan to a thickness just less than 1/4″. Press some of the mixture up the sides to create a bit of a ledge (about 1/4″). Pour the jam evenly on top of the crust. If you are using several flavors try not to fully mix the flavors; either layer or intersperse to avoid muddling too much.
Add the oats, spice, and nuts (if using) to the remaining mixture and lightly mix with your hands. If you are a salt-loving person, you can add a few more pinches of a finishing salt here, or use salted nuts in the mix. Generously sprinkle the mixture on top of the jam layer. I like to use a mixture of small bits and large chunks on top. To make larger chunks, simply pinch pieces together and drop onto the jam. I'm partial to lots of topping, but if it seems too much for you, don't use it all. You can bake it off separately and have as a topping for yogurt or ice cream, or even as a snack.
Bake for approximately 20-25 minutes or until golden brown. Cool before cutting.