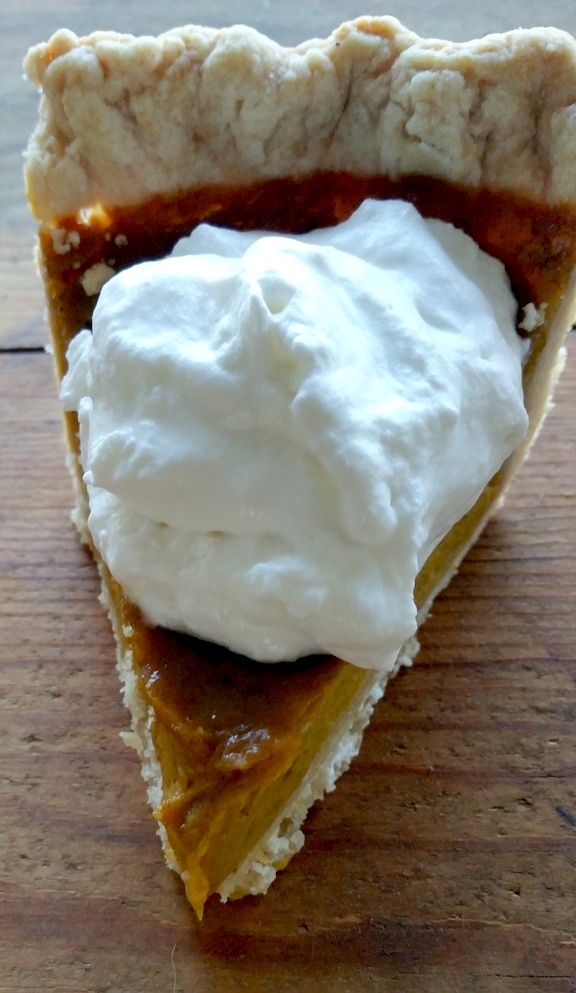 Pumpkin pie and I have made a bit of a journey together. Up until a decade or so ago, I used canned pumpkin and its accompanying recipe for my pie. It was good. Libby's had a bit of a lock on the pumpkin pie market and deservedly so. Canned pumpkin, canned milk, sugar, eggs, spices. Easy as pie, right? It wasn't until I started buying sugar pumpkins, at the farmer's market, and subsequently growing my own,that I began making homemade pumpkin puree. The change has been slow, and deliberate. Moving from canned pumpkin to homegrown was a bit more daunting than ditching the canned milk. When we moved to the ranch we started growing some heirloom varieties of pumpkins. After a myriad of taste tests and bum to prove it, we've decided that the Jarrahdale pumpkin makes the best pie. Or should I say, my best pies are made with Jarrahdale pumpkins. The flesh is firm and a bit sweet after roasting and decidedly "pumpkinny". When processed it is very smooth and makes an almost pudding like pie. Admittedly, they can be difficult to find..and this recipe works well with any (except jack-o-lantern type) pumpkins…but if you see one…grab it. They keep well, look eerie and taste amazing.
Pumpkin Pie
makes an 8 or 9 inch standard depth pie
1 recipe flaky pie crust (recipe follows)
2 cups fresh pumpkin puree (instructions follow)
2 whole large eggs
2 large egg yolks
1/2 cup whipping cream
3/4 cup dark brown sugar–gently packed (add a bit more if you like a sweeter pie
1/4 tsp salt
1 tsp cinnamon
1/2 tsp ground ginger
1/8 tsp ground cloves
1/8 tsp freshly ground nutmeg
1/8 tsp allspice
*note: you can add or eliminate any spices you wish. I only suggest that you don't overdo the cinnamon. The flavor of fresh pumpkin is gentle, if you put too much cinnamon, you will kill the subtlety.
Preheat the oven to 375f.
Whisk all ingredients, except the eggs, together in a large bowl and taste for sweetness and spice. At this point you can add a bit more sugar (add 1 Tbs at a time) and spice. When you are happy with the flavor, whisk in the eggs and egg yolks and place the bowl in the refrigerator while you "blind bake" the crust. Be sure to bake only until the crust begins to look cooked, but not browned. You do not want to over bake, as you need to put it back in the oven once you fill with the pumpkin custard. Remove the crust from the oven, remove the weights and parchment paper, and immediately pour in the custard. Reduce the oven heat to 350f. Place the pie on a baking sheet and bake for approximately 40 minutes. It is important that you watch it. You do not want to overcook the custard. It is done if you tap the side of the pan and you get a slight jiggle/ripple in the middle of the pie (1 or 2″ from the center of the pie). Just as if you have skipped a small rock into a pond. If the ripple starts from the outer rim of the pie, it is not done. If it doesn't ripple at all, pull it from the oven and get it on a cooling rack right away. Let cool at room temperature. Store in refrigerator.
Pie Crust
you can use a favorite recipe, or even a store bought crust (which simply isn't as good, but I understand). This is a simple recipe that I use for a nice tasting and sturdy crust.
2 1/4 cups all purpose flour
3/4 tsp kosher salt
1 Tbs sugar
1/2 cup cold butter–cut into chunks
1/2 cup lard
5-6 Tbs of cold water + 1/2 tsp vinegar
In a large bowl mix together the dry ingredients. Add the butter and shortening all at once and "cut" into the pastry. I like to use my hands for this. I will work the mixture until the butter and shortening are incorporated into the flour in hazelnut size pieces. Add enough very cold water to bring the mixture together, but it should not be sticky. It should also not be dry. Handle the dough as minimally as possible, wrap in plastic wrap and refrigerate for at least 1 hour or overnight. If you are making the pastry well in advance (more than a day), I suggest wrapping it and freezing it. Raw dough will turn gray after a time in the refrigerator.
Fresh Pumpkin Puree
Do not use a pumpkin that you would use for carving. They can be stringy and don't carry the flavor of sugar or (in this case) the jarrahdale pumpkin. Wash the pumpkin well, cut in half and remove all the seeds and stringy bits. Reserve the seeds and roast them for a treat. Place the pumpkins, cut side down on a lined baking sheet and place in a 350f oven until they are very soft. Let cool, remove skin run through a ricer, food mill, or immersion blender. For a silky smooth texture, process the "meat" of the pumpkin until it is no longer lumpy. I use a hand blender which works perfectly, but you can use a processor as well. Place puree in a cheese cloth lined colander and let drain 6 hours or overnight. You will need 2 cups for the pie recipe, but your pumpkin might yield more. You can freeze the extra at this point.