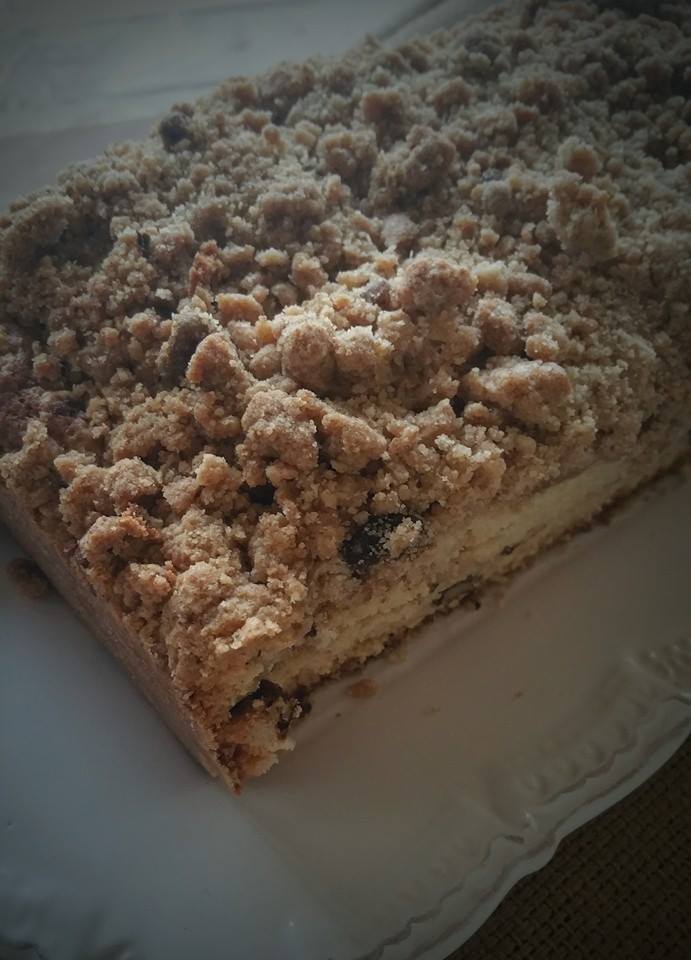 Iprefer a piece coffee cake to birthday cake because it has to rely on itself to be good. It doesn't have some kind of amazing mocha-buttercream frosting to make it moist
or big red roses with that funny but somehow pleasing taste. Also, it really does taste great with coffee or a mug of tea. It reminds me of my grandparents who insisted on having coffee and cake
while playing gin and smoking cigarettes on our back porch during the warm summer nights. My. entire. childhood. It was magic.
Big Ginormous Coffee Cake
(adapted from Nancy Silverton's La Brea Bakery Cookbook)
Streusel
1 cup toasted walnuts
1/4 cup granulated sugar
1/4 cup dark brown sugar
1/2 cup flour
1 tsp cinnamon
1/4 cup softened butter
Sprinkling Sugar Layer
1 Tbs granulated sugar
1 tsp cinnamon
1/4 cup toasted walnuts
Batter
8 oz unsalted butter–room temperature
1 3/4 tsp baking soda
2 tsp baking powder
2 tsp kosher salt
2 1/2 cups granulated sugar
3 extra-large eggs
1 1/2 tsp vanilla
4 cups flour
2 cups sour cream
For the struesel: Mix in a bowl all ingredients except the nuts. Mix until it becomes a bit lumpy then toss together with nuts. Set aside
For the Batter: Cream the butter, baking soda, baking powder and salt on low until softened and mixed together. Add sugar and mix until light and fluffy. Mix together the eggs and vanilla in a bowl. Alternately add to the sugar and butter the eggs and the flour, beginning and ending with the flour. Stir until just incorporated, do not over-beat. Stir in the sour cream.
Line the bottom of a tube pan with baking paper, spray with pan spray being sure to hit the inner tube well. Spoon half of the batter in the pan and spread to create an even layer. Sprinkle the cinnamon sugar mix over on top of the batter. Drop the nuts on top and press a bit to get them into the batter. Spread remaining batter evenly on top and then cover with the streusel mixture.
Bake in a preheated 350 oven until firm to the touch and a toothpick inserted in the center comes out clean.
It will take more than an hour.