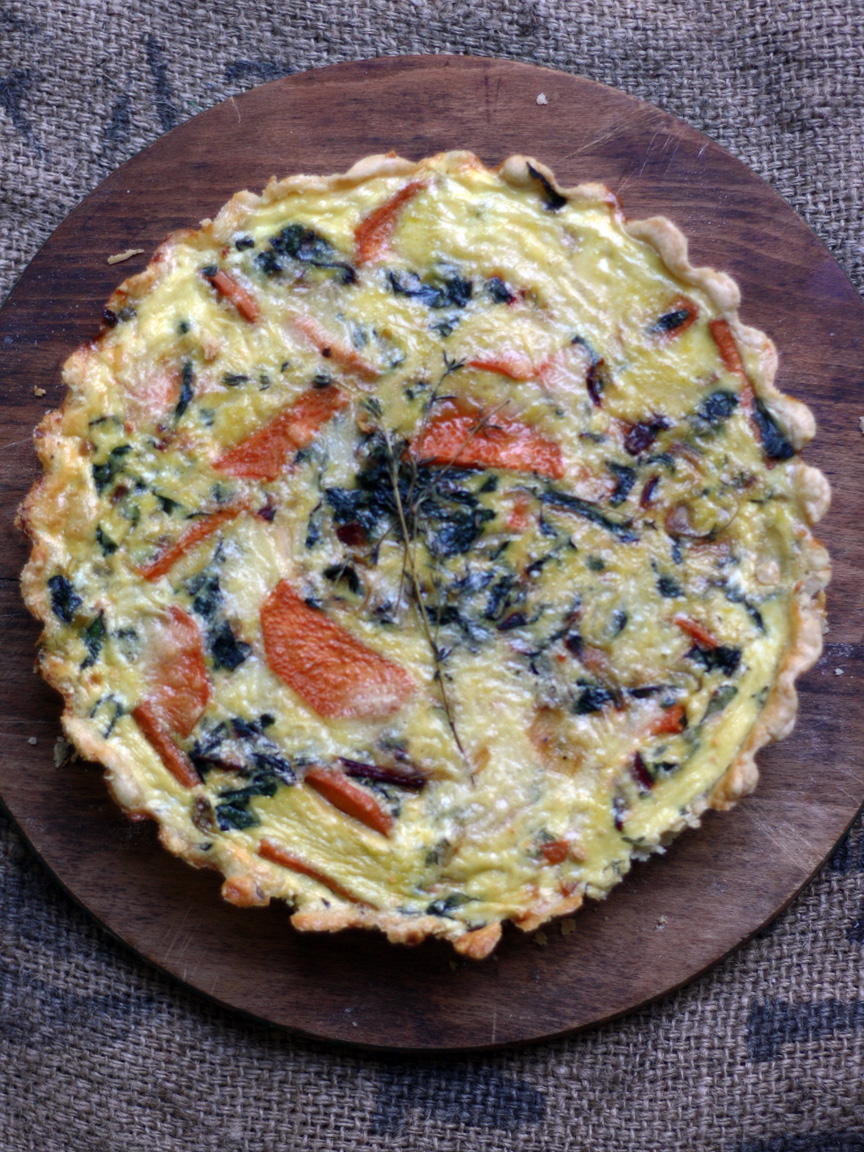 I was able to pick up swiss chard, for a song, at this week's market. Now, creating meals around this favorite green, has been my charge. This morning I was longing for the buttery crust of pie with the wholesome chew
of comfort. I threw together this tart in a jiff, simply using larder staples.
Sweet Potato and Swiss Chard Tart
1 pie crust–press in to an 8-9″ tart pan
1 medium sweet potato–1/4″ slice and halved
1/2 onion–halved and thinly sliced
2 cloves garlic–finely chopped
1 Tbs (about) olive oil
1 bunch swiss chard–ribs removed and chopped into thin ribbons
generous pinch salt and pepper
generous pinch freshly ground nutmeg (or small pinch of dried)
6 large eggs
1/4 cup plain yogurt
2 Tbs grated parmesan
2 stems thyme–stems removed (or 1/4 tsp dried)
1/2 cup grated cheese (asiago,white cheddar, provolone, or jack)
Preheat oven to 375F. Blind bake the crust for about 20 minutes. When you remove the weights, you will fill with the custard and place back in the oven to continue baking. Heat a large skillet over low heat. Pour in enough olive oil to just coat the bottom of the pan. Toss in the potatoes and onions. Cook until the potato and onions begin to soften. You are not frying for color, you are softening the vegetables. Toss in the garlic and swiss chard and continue on low-stirring occasionally) until the chard is droopy and has cast off some moisture. Do not let the garlic burn. Season with salt and pepper and nutmeg. Pour into the par-baked crust and spread evenly to cover the entire bottom. Gently whisk the eggs, yogurt, thyme and parmesan together in a bowl. You want to incorporate the yogurt (eliminating large lumps) without incorporating too much air. Pour over the vegetables. Reduce oven heat to 350F and place the tart on a sheet pan and then in oven. Bake for approximately 30 minutes, or until the eggs do not jiggle when you gently tap the pan, and the crust is golden brown.