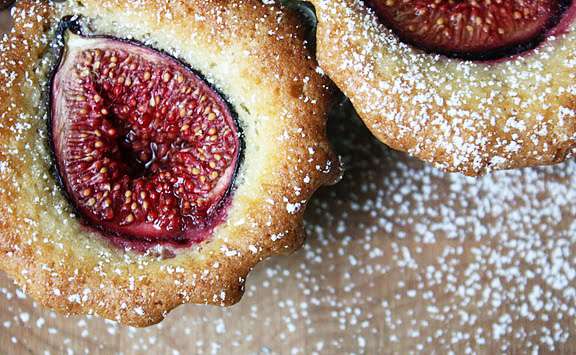 Recently I met a young man. He asked to meet to discuss an idea. An idea born in sharing. I was early for the meeting, mostly because I have yet to shake some of my uptight corporate mores. He was tardy but only by minutes. A delay caused by
a sweet pause to pick gorgeous ripe figs which he then gifted to me. We talked for hours about our love of good food and how we share it with others.

Cornmeal and Fig Financiers
1 1/2 cups unsalted butter
1 cup sugar
1 Tbs honey
2 Tbs buttermilk
3 large eggs
1 tsp vanilla
1 1/4 cup flour
1/4 cup cornmeal *
3/4 tsp baking powder
1/4 tsp kosher salt
5-6 fresh figs-halved
Measure the flour, cornmeal, baking powder and salt in a bowl. Whisk to combine. In a mixer fitted with the paddle attachment, cream the butter, sugar and honey. Add the eggs one by one, scraping down the sides of the bowl after each addition. Quickly beat in vanilla and buttermilk. On low speed, mix in the dry ingredients, do not over mix. Scoop into small brioche molds, cupcake tins or other vessel. Fill to about the halfway mark (perhaps just a tad bit more), and then gently push 1/2 fig on top. Bake at 350 for approximately 15-30 minutes. Use the toothpick method to ensure they are baked through.
*i used a medium coarse cornmeal–but you can use anything from fine to coarse…the texture of your cake will reflect whichever you choose to use.