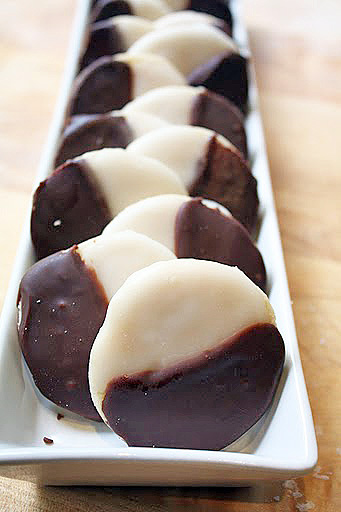 My parents grew up in New York. Although we moved to California when i was a toddler, "new yorkness" remains in my dna. I won't apologize for it. See? i warned you. My favorite goodies from the old neighborhood were tucked in a pink box and secured with twine. Wrapping not only sweets but stories of my mother as a young girl; a nickle in her pocket, walking to and from school in snow up hill–both ways, stopping at the local bakery to warm her toes and carefully choose an afternoon treat. Times have changed and so have bakeries. Fancy cupcakes, mini pies and low-carb muffins have edged out old fashion favorites like; slabs of coffee cake, sweet buns crullers and black & whites as big as your noggin. Thankfully, Nancy Baggett has a knock-out recipe for black and whites in her "The All American Cookie Book". There is nothing I like more than presenting this New York favorite to my favorite New Yorker, my mom.
New York Black and Whites
recipe from Nancy Baggett
3 cups all-purpose white flour
Scant 3/4 teaspoon salt
1/4 teaspoon baking soda
1 1/3 cups sugar
2/3 cup (1 stick plus 2 2/3 tablespoons) unsalted butter, slightly softened
1/2 cup white vegetable shortening
2 large eggs
2 1/2 teaspoons vanilla extract
2 teaspoons light corn syrup
Scant 3/4 teaspoon lemon extract
1/3 cup sour cream
Quick Vanilla and Chocolate Fondants:
1/4 cup light corn syrup
5 cups powdered sugar, sifted after measuring, plus more if needed
3/4 teaspoons vanilla extract
2 ounces unsweetened chocolate, chopped
Preheat oven to 350 degrees F. Grease several baking sheets or coat with nonstick spray. In a medium bowl, thoroughly stir together flour, salt, and baking soda; set aside. In a large bowl, with an electric mixer on medium speed, beat together the sugar, butter, and shortening until well blended and fluffy, about 2 minutes. Add the eggs, vanilla, corn syrup, and lemon extract and beat until evenly incorporated. Beat in half of the flour mixture until evenly incorporated. On low speed, beat in the sour cream. Beat or stir in the remaining flour mixture, just until well blended and smooth. Let the dough stand to firm up for about 5 minutes.
Using a scan 1/4-cup measure of dough, shape into balls with lightly greased hands. Place on the baking sheets, spacing about 3 1/2 inches apart. Using your hand, press and pat the balls to about 3 1/4 inches in diameter.
i make mine mini..using a small ice cream scoop as my measurement
Bake the cookies, one sheet at a time, in the middle of the oven for 10 to 14 minutes, or until lightly browned at the edges and the tops just spring back when lightly pressed in he centers. Reverse the sheet from front to back halfway through baking to ensure even browning. Transfer the sheet to a wire rack and let stand until the cookies firm up slightly, 1 to 2 minutes. Use a spatula, transfer the cookies to wire racks. Let stand until completely cooled.
For the Fondants:
In a medium, heavy saucepan, bring 1/2 cup water and the corn syrup just to a boil over medium heat. Remove from the heat and stir in the powdered sugar and vanilla until completely smooth. Place the chocolate in a small, deep bowl. Pour 2/3 cup of the hot vanilla fondant over the chocolate. Stir until the chocolate is partially melted. Pour another 1/2 cup of the vanilla fondant over the chocolate. Stirring constantly, thin the chocolate fondant to a fluid but not runny consistency by adding 3 to 4 teaspoons of hot water, a little at a time. Stir until the chocolate melts completely and the water is thoroughly incorporated.
Set the wire racks with the cookies over wax paper to catch drips. Using a small, wide-bladed spatula, spreader, or table knife, immediately ice half of each cookies with the chocolate fondant. (if the fondant stiffens as you work, thin it by thoroughly stirring in a few drops of hot water. If the fondant cools completely, rewarm it over low heat, stirring).
In necessary, adjust the consistency of the vanilla fondant by stirring in additional powdered sugar or hot water until fluid by not runny. Ice the second half of each cookies with the vanilla fondant. Let the cookies stand until the icing set, at least 2 hours and preferably 4 hours.
**
This recipe comes directly from Nancy Baggett's All American Cookie Book; a book that has been in my library for about 10 years. I have not bee asked to endorse the book or any individual recipes by the author or publisher. This is simply a darn good recipe, one of many in this book