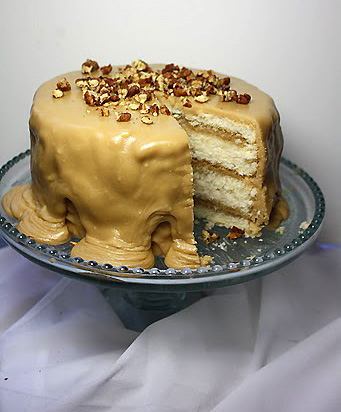 Warm and sticky. Like a rainbow lolly half eaten, forgotten in the crease of the car seat. Three showers a day couldn't keep me felling fresh. Add to it a severe case of chiggers; itchy feet with my face swollen to near paralysis, and you find yourself smack dab in the middle of one of my favorite food moments.
Mississippi 2010–My Husband's Family Reunion
I had been obsessed about caramel cake since reading about Minnie's version of it, in the novel The Help. It is a beautifully written story about fictitious people, weaving through real life. It was captivating. Almost as captivating as its descriptions of food.
I can't help myself.
I spent the whole "girl with the dragon tattoo" trilogy wondering if people in Sweden actually eat that many sandwiches.
but I digress
Mike and I were mid-stop in our three week southern states road trip, when we hit Mississippi. I had long forgotten my barbecue binges in Texas and my creole cravings in New Orleans. We were crossing the state line, and i needed caramel cake. As we drove through some of the most beautiful country; green as the hills of Ireland, with scattered towns, population merely a blip, I frantically dug through travel books/notes/the web, looking for a bakery, or a sign touting BEST CARAMEL CAKE EVER!
nothin'
We were in Mississippi for a family reunion, not a cake walk. So, I settled in. Kind of. Not really
About 3 days in, the men went golfing. The remainder of the family was doing other things. I'm not sure, I didn't ask, I was on a mission. I spent an hour that morning with one last ditch effort, searching the web. I spotted it. A place called Buck's One Stop in Calhoun City
a mere 70 miles away. Hey, I'm from Los Angeles. It takes and hour to go 15 miles. 70 miles on open roads? Total breeze.
The GPS was slightly off and took me to a dead end street, in a not so friendly neighborhood. I thought to myself, this is the South, it could be that Buck was making cakes in his garage. It could happen. I almost knocked on the door, then thought better of it. Because I was alone and without cell coverage, I figured i'd best to make one more pass down main street. No buck's one stop. No buck anything. I did, however, happen upon a parking lot crowded with cars. A make-shift sign on the front door of the building named the place Bubba T's. It seemed nice. Actually, it seemed like a community center, possibly serving meals to the homeless. It was a buffet, housing really hearty meals of richly smoked meats and slow braised greens in an all you can eat fashion–self portioned, from a modge podge of steam pans.
I got in line. Half wondering if perhaps, this wasn't an invitation only, memorial luncheon for Bubba T.
I gathered my courage while filling my plate, silently practicing my lines and voice inflection. The minute I opened my mouth, I was a tell. Not from around here, certainly not Bubba's kin. Thankfully, I noticed a small cashier's sign in the far corner of the room. Behind the register sat the most adorable Priscilla Presley circa 1968 look alike. While she tallied my bill, we made small talk. Yes, I am from out of town, yes, it is hot enough for me, no, I don't need napkins. And then I did it. I asked if she knew Buck's One Stop. Her reply, "Yep. The Texaco. You need gas?" First of all, I was standing there, paying for a loaded plate of food, including some sort of pudding-I wasn't going to admit I was looking for more food. Secondly, I was embarrassed. Embarrassed that I had driven 70 miles to buy cake I had read about in a book and that I may or may not have crashed a funeral lunch. So, I lied. Yes, I need gas.
I almost didn't stop at the Texaco which, by the way, was no longer Buck's, it had been sold to Mark. But in the spirit of optimism, I held out hope. I've experienced great food at truck stops in Italy, it could happen in Calhoun City.
Nearly a full year has passed yet that day remains an indelible memory. I can see the patrons, hear the sounds, feel the arctic blast of air rushing me like a wave as i opened the grimy gas station door. At first glance it looked like every road-side station snack shop–cigarettes, candy, gum, chips. And then I saw it. I felt like Tony Orlando, but instead of yellow ribbons, I saw cakes and pies. Right there, in the Texaco station, in the township of Calhoun City, population 1770, were the most beautiful, freshly baked cakes I had ever laid eyes on. Including, the object of my obsession. Caramel Cake. It was sky high and drenched in icing–a single slice flanked by strawberry cake and coconut cream pie.
Behind the counter was the proprietress, amply bosomed, kind-faced and seemingly unaware that people drive miles for her confections. As she and I locked eyes over the counter, my heart sank. Just one piece remaining. A generous slice, but a single slice, none-the-less. How was I going to eat the slice of cake while still sharing it with others? Apparently,my lips were moving and I was muttering it out loud. To which the nice lady gave me a great big smile and pointed at a floor to ceiling shelving unit, stacked with pink boxes.
pink boxes of cake
My heart jumped. I may have shed a tear. I think I giggled a bit. I was prepared to sell my soul. And had this been Los Angeles, I might have had to. Because I walked out of there with 2 whole cakes–one caramel, one strawberry–an additional slice of each (for tasting purposes), and maybe some pie. I'm not exactly admitting to the pie. I'm just saying, they sold pie too.
My version of caramel cake tastes pretty close to what I remember from Calhoun City. It combines a tender crumb white cake with a rich and sugary poured icing.
Caramel Cake
white velvet butter cake
from rose levy birnbaum
4 oz egg whites–room temperature
1 cup whole milk–divided–room temperature
2 1/4 tsp vanilla
3 cups sifted cake flour
1 1/2 cup sugar
1 Tbs + 1 tsp baking powder
12 Tbs unsalted butter-room temperature
1/4 tsp kosher salt (my addition)
In a mixer combine all the dry ingredients, and mix for about 30 seconds. Add the butter and mix until the flour gets crumbly. Stir in 1/4 cup of the milk and bring the speed to medium high and beat for about 30 seconds. In a bowl, stir together the egg whites, milk and vanilla. Add to the dry ingredients in 3 additions, scraping down the sides and beating for about 5-10 seconds after each addition. Do not over mix, but make sure it is all incorporated. Pour into 2-7″ cake tins, which you have parchment lined and greased. Smooth the batter and bake in a preheated 350 oven for approximately 35 minutes. Bake until a tester comes out clean. Cool in pan for 10 minutes, then turn over onto cooling rack and allow to cool completely. Slice each round into two horizontally to make 4 layers total.
caramel icing
2 cups light brown sugar
1 stick unsalted butter
1/3 cup whole milk
2 Tbs real maple syrup
1/4 tsp kosher salt
1 tsp vanilla extract
3 cups confectioner's sugar
1 cup chopped toasted pecans
Bring brown sugar, butter, milk, maple syrup and salt to a simmer. Simmer just until the sugar is no longer grainy, don't let it boil. Remove from heat and add vanilla, stirring constantly. Allow to cool just slightly…so that it isn't scorching hot, but nicely warm. Whisk in powdered sugar. You have to work fast, this will set up rather quickly. Pour icing on each layer as you stack it, you don't want it to completely pour over the sides, but it can drip over without issue. once all the layers are set, pour the remaining icing over the top using a ladle. use the bottom of the ladle to coax the icing over the sides to cover completely.
sprinkle pecans on top
*full disclosure
i love this frosting, so i make 1 batch and allow it to cool a bit, then spread like frosting between the layers. this gives me a bit thicker layer of filling. i then make a second batch and completely bathe the cake in it. it is my preferred method…but 1 batch of icing will work as well.