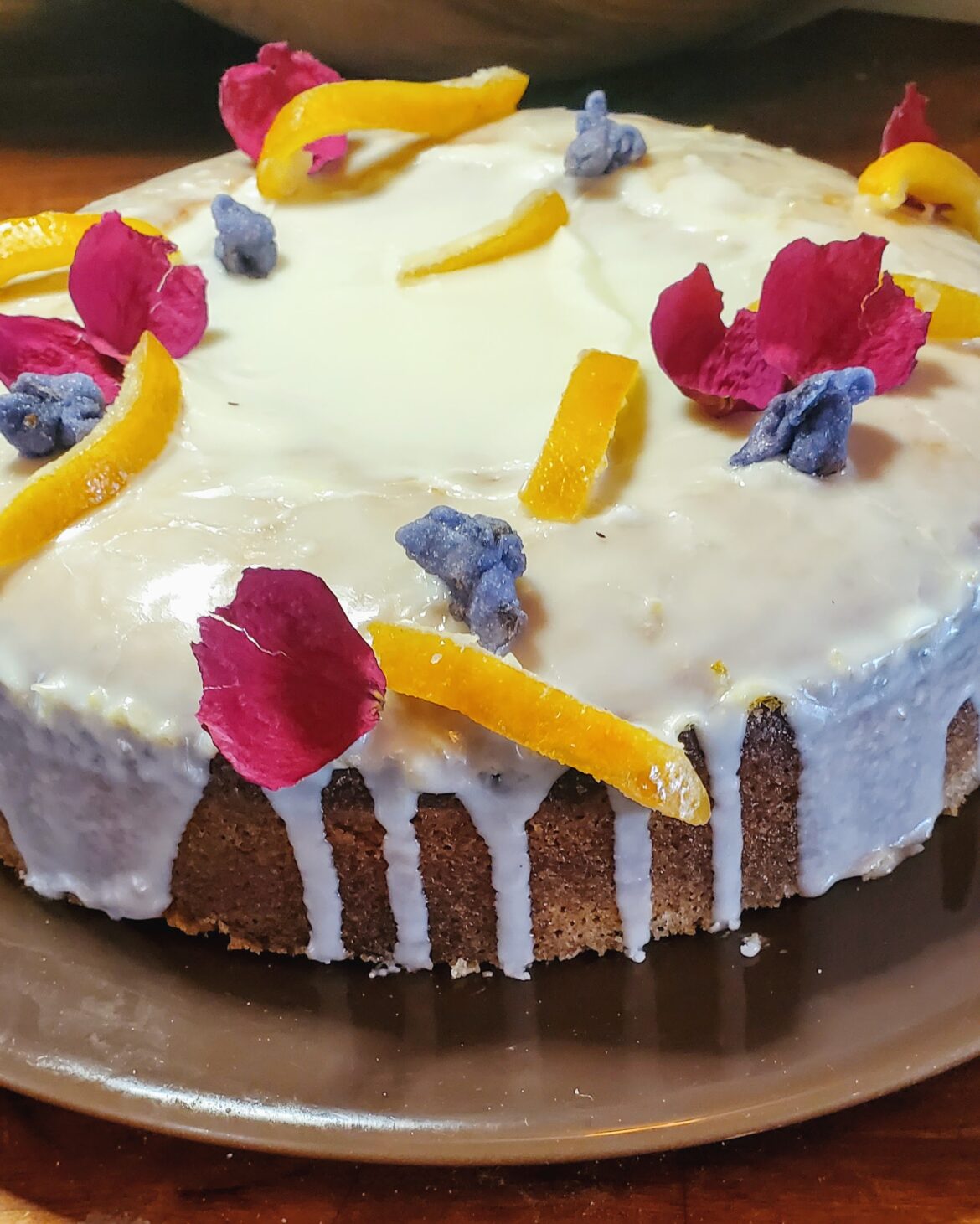 When I have guests over for a meal or celebration, I am cognizant of dietary desires and restrictions. I don't specifically design the menu around the issue, but I always make sure there are dishes served that everyone can enjoy. Dessert can be problematic, which is why I love an olive oil cake. While it doesn't work for everyone, it is great for those with a dairy allergy. It is my go-to when I am trying to please a crowd. Best part; it can look festive and celebratory without being an elaborate layer cake. Single-layer cakes are my best friend.
Don't let the additional components of a sop and icing deter you from trying this cake. It is a delicious addition to any celebration, or a mid-week tea and cake sesh. The addition of Limoncello (or any citrus cello) gives it a bit of an adult edge and sophistication.
for the cake:
3 extra-large eggs
1 cup + 2 Tbs granulated sugar
1 tsp kosher salt
1 Tbs lemon zest
1 1/4 cup olive oil (the less bitter, the better)
2 cups all-purpose flour; sifted
1/3 cup fine cornmeal
2 tsp baking powder
1/2 tsp baking soda
6 Tbs fresh lemon juice*
3 Tbs limoncello (or any citrus-cello)
2 tsp vanilla extract
*depending on the flavor profile you desire, you can substitute orange, grapefruit or lime (or a mixture) for the juice. Lemon packs the most punch, but you can play around. Make sure whatever you use compliments the liquor (lemon or citrus-cello).
Prepare your 9" springform cake pan by spraying with pan spray, lining the bottom with parchment, then spraying with pan spray again. Dust with granulated sugar; tapping out the excess. Preheat oven to 350.
In a stand mixer fitted with whisk attachment, beat eggs, sugar, salt, and lemon zest until they are pale yellow and reach ribbon stage (about 3-5 minutes).  While whisking, slowly pour in olive oil.  Whisk on medium/medium-high for another 2-3 minutes.  
Meanwhile, whisk sifted flour, cornmeal, baking powder, and baking soda in a separate bowl. Measure the lemon juice, limoncello, and vanilla extract together.
With the mixer on low, alternate adding the dry ingredients (flour, cornmeal, etc) with the wet (lemon juice, limoncello, etc) beginning and ending with dry. Take care to not overmix
Pour into prepared pan and bake for approximately 50-60 minutes. It may take less, it may take more. I make a habit of checking after 45 minutes. It will brown a bit because of the sugar lining the pan; use a tester to make sure it is fully baked before removing it from the oven. The cake should be just firm to the touch.
While the cake is baking, make the sop syrup
for the sop syrup:
1/4 cup lemon juice (or other if you are changing it up)
1/2 cup granulated sugar
2 Tbs olive oil
Simmer the lemon juice and sugar over low heat until it starts to thicken to the consistency of cough syrup. Remove from heat and allow it to cool slightly. Pour 3 Tbs into a separate bowl and add the olive oil. Set aside the remaining to use in the icing.  Pour the syrup/olive oil mixture evenly over the cake immediately after removing from the oven.
Make icing while the cake cools
for the icing
1 1/2-2 cups powdered sugar
1 Tbs agar-agar (optional)**
remaining sop syrup
limoncello
cream or water (if going dairy free)
**using agar-agar helps the icing firm up quicker than if you do not add it. It is an old doughnut shop trick. Be careful as sometimes it firms up so quickly that you can't get your decorations on fast enough! Agar-agar is derived from algae and can be an allergen for some.
Stir the powdered sugar and agar-agar until fully incorporated. Add the remaining sop syrup. Use limoncello and cream (or water) to create desired consistency.  Pour over slightly warm (for a less opaque glaze) or cooled (for thicker and more opaque icing) cake allowing it to over the sides. Decorate as desired.
The cake pictured is decorated with dried rose petals, candied orange peel, and candied violets.