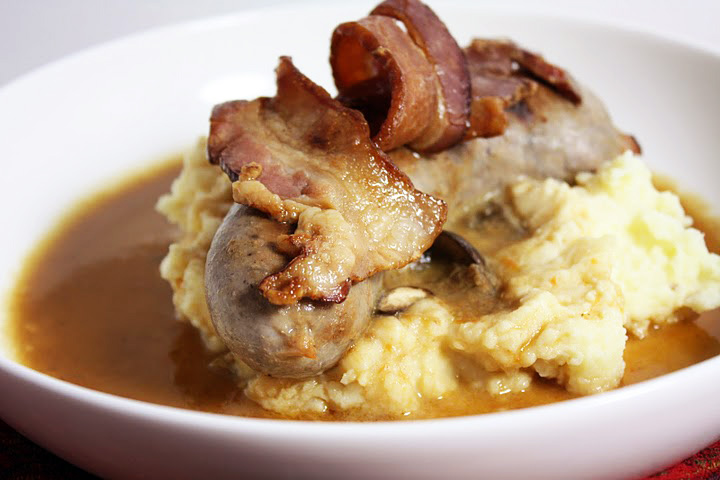 Several years ago, Mike and I enjoyed a quick trip to London. My good friend Rebecca lives outside of London proper, but popped into the city to treat us to lunch at a fancy restaurant. In typical American fashion, we eschewed the fancy and ordered pub style lunch. And in typical British fashion, Rebecca didn't flinch. I lived in London, which now seems a lifetime ago, for several years. I always ordered bangers and mash when found on a menu. Its one of those meals that everyone has a version of, and everyone's mum made best. I always found the meal to be hearty, comforting, and delicious. My version here is an attempt to copy the version we had on our last visit to London.
Bangers and Mash
mushroom gravy
1 stalk celery–finely diced
1 carrot–finely diced
1 onion–finely diced
pinch salt
3 cups beef stock
1 bay leaf
3-4 sprigs parsley
2 sprigs thyme
2 oz unsalted butter-softened
3 Tbs flour
3 crimini mushooms–sliced
4 crimini mushrooms–diced
Cook the celery, carrot, and onion in a bit of olive oil until just softened. Add the beef stock all at once and stir. Toss in the sliced mushrooms, the bay leaf , the parsley and thyme. Cover and let simmer for at least 30 minutes but up to an hour. Strain. Return the liquid back to the pot. Mix together the butter and flour in a bowl. Add the warm stock, a bit at a time to the butter-flour mixture, whisking to make a smooth paste. Once you have a runny paste (much like toothpaste), whisk it into the broth until smooth. Toss in the diced mushrooms and simmer until it thickens and the mushrooms soften–about 10 minutes.
Bangers
4 bangers
4 thick cut bacon rashers
1/2 bottle lager
Put bangers and bacon in a sided saute pan. Pour in beer and simmer until the beer has completely evaporated. Add just a bit of olive oil and allow it to continue to cook until the bangers are cooked through. Your pan will get really dark and scary looking. Don't worry…it won't damage (fill the pan with water and slowly simmer on the stove, it will clean right up)
Mash
5 smallish yukon gold potatoes–peeled and halved
1/2 stick of unsalted butter–room temp
2 oz cream chese–room temp
milk
salt and pepper
Boil potatoes in salted water. drain and return to pot. Toss in butter and cream cheese and mash. Add enough milk to get your desired consistency. Once you add the milk, you have to be mindful. Do not whip and beat endlessly. If you do, you may end up with gummy mash–yuck. Better to have a lump or two. If you like silky mashed potatoes, run them through a ricer before adding butter and cream cheese. add salt and pepper to taste.
To Assemble
Place a generous portion of potatoes on your plate. top with the sausage and enough gravy to make you smile. Top with a rasher of bacon.