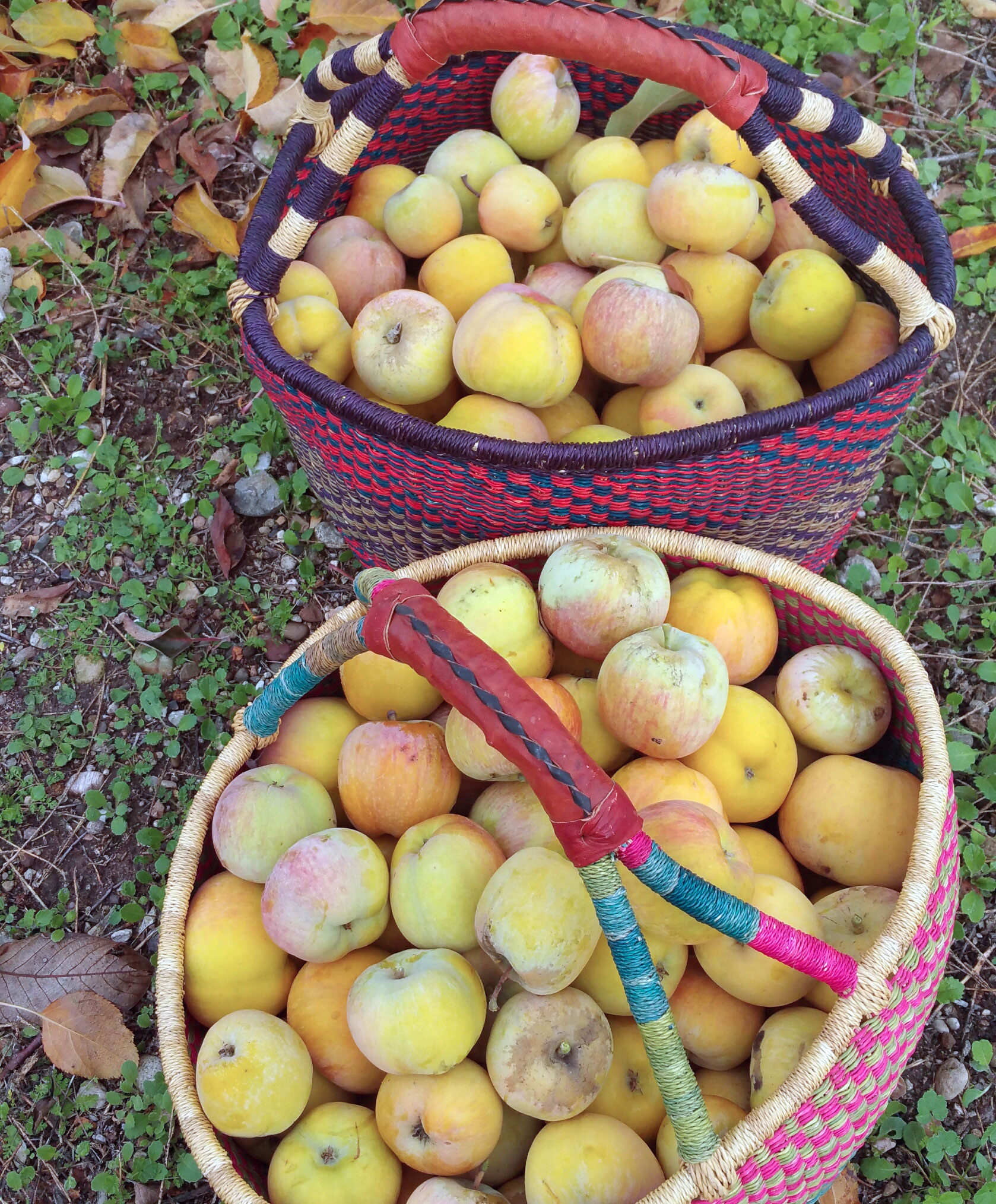 Mike planted 20 plus varieties of apples in our orchard. We have pie apples, sauce apples, snack apples, brandy apples and cider apples. To further the cause, our neighbor also grows a variety in her orchard. We are not starved for apples from late spring to early winter. Today, in the dense of early morning midst and chill, I picked the trees clean. Bushels and bushels of apples. A workout and a treat! These apples are slated for hard cider. I'm still gathering all of the supplies, but I will be pressing the apples this week, and starting the fermentation process straight away. I'll keep you posted on the progress. With any luck it won't end up like the root beer project of 2005. Spoiler alert, it ended with me in a delightfully rich, if not sticky, bath.
While you (and I) are waiting for the results of the cider…you may want to try making these delicious apple fritters.
Apple Fritters
for the apples
1 cup apples–cut in a 1/4″ dice
1 Tbs sugar
1 Tbs lemon juice
pinch cardamom
pinch nutmeg
pinch cinnamon
mix together in a bowl and let sit while you do your preparations
for the batter
1 cup apple cider
2 cups flour
1/2 cup sugar
1 tsp kosher salt
1 Tbs baking powder
1/2 tsp cinnamon
1/2 tsp nutmeg
1/3 cup milk
1 tsp vanilla
3 Tbs unsalted butter–melted
2 large eggs
oil for frying
Simmer the apple cider on the stove until it is reduced to 1/4 cup, and let cool. Heat your oil in a sturdy deep pot, to 360F. Your oil should be deep enough so the fritter can float, but you must also have at least 3″ between the top of the pot and the top of the oil. Meanwhile, place all your dry ingredients in a bowl and whisk to combine. Make a well in the center and pour in milk, vanilla, butter, cider and eggs. Slowly stir together, making sure all ingredients are incorporated, but do not beat. Stir in the apple and any juices that may have accumulated. you can make these small or big, the process is the same. Drop into hot oil and then using a spatula poke it a few times to flatten it a bit and give it some nooks and crannies. Fry until golden brown, then flip and continue until both sides are equally colored. Remove from oil and place on a cooling rack, placed over a sheet pan.
for the glaze
1 cup powdered sugar
2 Tbs (more or less) cider
Mix together in a shallow bowl. When the fritters are still warm, but not too hot to touch, dip in the glaze.