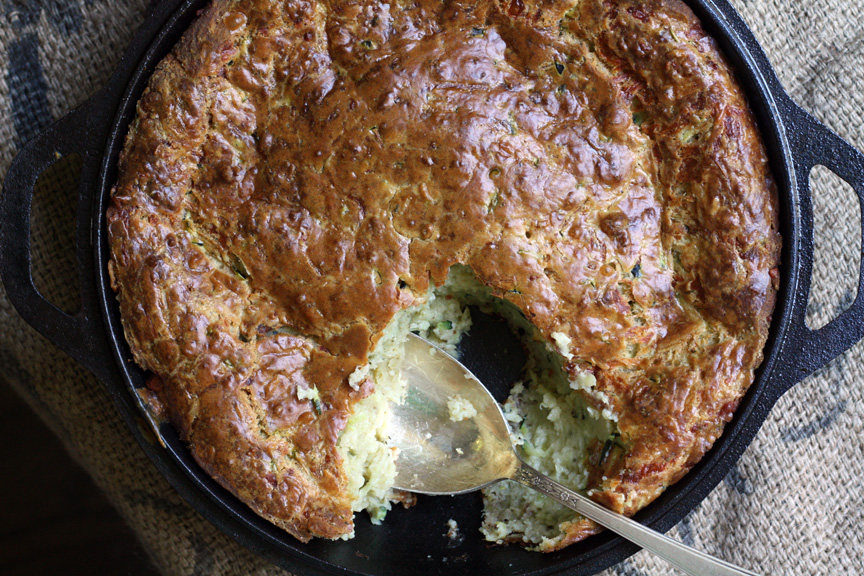 A few days back; Mike, fresh from visiting our long neglected garden presented me with an enormous zucchini. Confession I sorta only grow zucchini for flowers. Occasionally, a few squash survive. When they do grow this large, I use them for bread. Sometimes sweet, sometimes savory. This spoon bread is a great side dish. It also rocks, scooped warm and soft, as a bed for caramelized onions, sunny side up eggs and crispy bacon. Best.Breakfast.Ever.
Zucchini Chevre Spoon Bread
4 large eggs
6 oz olive oil
1 tsp kosher salt
1/2 cup chevre
1/2 tsp freshly grated pepper
1 Tbs honey
1/2 tsp garlic powder
1 tsp fresh or 1/2 tsp dried thyme
3/4 tsp baking soda
1/2 tsp baking powder
2 cups all purpose flour
1 lb (about 3 cups) grated zucchini
1 cup grated cheese (mix of asiago, parmesan and provolone)*
*use your favorite flavorful cheese…if you use a salty cheese, modify your salt to 1/2 tsp
Whisk together the flour, baking powder and baking soda in a bowl, set aside. In a mixer fitted with paddle attachment, beat the eggs and olive oil until pale (about 5 minutes). Add the salt, chevre, pepper, honey garlic powder and thyme. Mix for about another minute at as high speed as you can without splashing. STIR in the flour until fully incorporated, then stir in the zucchini and cheese. Bake at 375F in an 9″ buttered cake tin or cast iron skillet. Bake for about 45-50 minutes. This is a spoon bread, so it will be soft, but should not be jiggly. It will set as it cools as well. Serve warm.