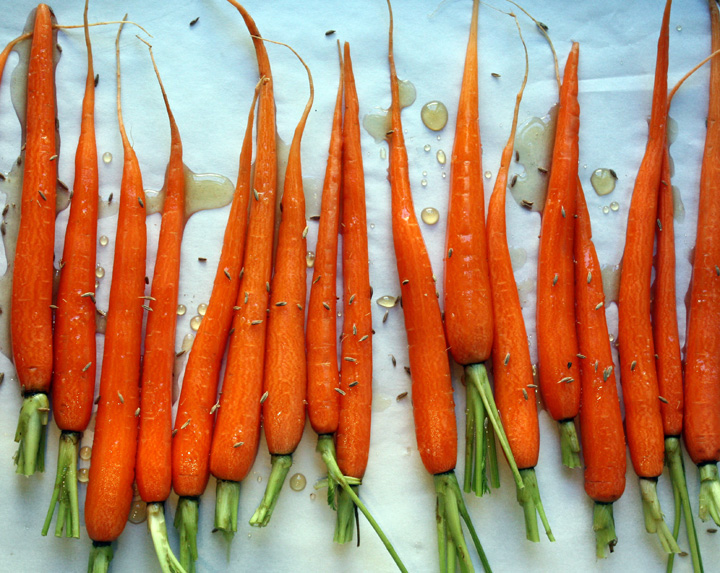 Happy New Year! A well worn phrase with genuine intent. I find when spoken, it is always with a positive lilt; rarely a tone of indifference or sarcasm. No gifts to buy, no religious or political schism. Just the turn of the calendar giving us all a chance to
review
renew
resolve
For 2011 my goals were: I will not judge in disappointment, as I am confident I too fall short of expectations others place on me. Rather than toss the years of the past I will carry them forward both as fond memories and retrospective caution. And I will eat more fruit.
For 2012, I have chosen a theme: dust Yourself Off. Simply, bootstrap mechanics. Get up, wipe off the dust, and give it another go. And. Eat more vegetables.
Honey Roasted Carrots
2 dozen small carrots-washed, peeled and trimmed
2 Tbs honey
1 Tbs white balsamic vinegar
1/2 tsp toasted whole cumin seeds
Warm the honey and vinegar to thin. Toss the carrots in the mixture and place on a lined sheet pan. Sprinkle with cumin seeds. Place in a 350 oven and cook until soft and caramelized, about 30-35 minutes. I also like to serve these, with some tooth to them, as a crudite with dip. You only need to cook them until they are softened but not colored–about 25 minutes. They are delicious with a simple tahini/soy sauce dip.