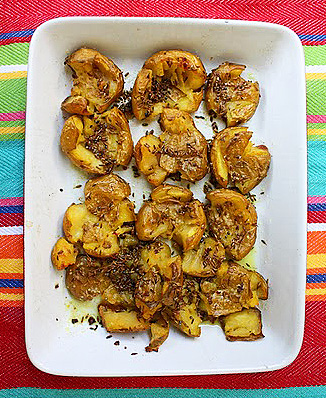 I do enjoy serving a meal of homegrown and freshly harvested food. I swell with pride as I lay a platter down proclaiming all prepared from our garden harvest. 'So simple and easy' knowing full well that the ease I feel is from years of; curiously
observing generations of the amazing cooks in my family, of boldly wandering into restaurant kitchens simply asking to see a technique, of sitting with locals at a farm table in the hills of Italy, on the banks of a river in Costa Rica, or roadside in India. I listen of trial and error and of trial and success. I learned of turmeric potatoes in India, brightly colored and deeply spiced. They are a perfect accompaniment to richly stewed meats. The version I present here is a bit more tame; still brightly colored and assertively spiced, but more suited to roasted meats or a vegetarian meal.
Sadly, my potato harvest was a bit of a bust this year…but in a brush of serendipity, I was sent a few pounds of potatoes from Friedas asking if i would like to give them a try. I like the piccolo potatoes for this recipe. Once cooked they have crispy crust, with creamy interior
Turmeric & Cumin Crispy Smashed Potatoes
1 1/2 lbs small potatoes
(i used piccolo from the little potato company, this will work with new, fingerling or any other small potato)
1 Tbs turmeric powder
1 tsp kosher salt, plus more to taste
3 Tbs olive oil
1 generous teaspoon whole cumin seed
1/2 generous teaspoon whole mustard seed
Place whole potatoes in a pot of cool water to cover. Add turmeric and 1 tsp salt and stir. Bring to a boil and simmer for approximately 15-20 minutes (until the potatoes are cooked through). Drain and place in a roasting dish in a single layer. Using the back of a fork, press each potato until it is a bit broken and smashed, but not completely flattened. In a skillet, place the olive oil, cumin and mustard seed. Heat on medium until the seeds begin to jump and pop. Immediately pour the hot oil and spices evenly over the smashed potatoes. Place immediately into to 375 degree oven for about 30-45 minutes. Check periodically and stir if needed for even roasting. Remove from oven and taste for salt. Pair with roasted chicken or minted lamb or simply dab a bit of plain greek yogurt mixed with a bit of lemon juice over the top for a warm salad.