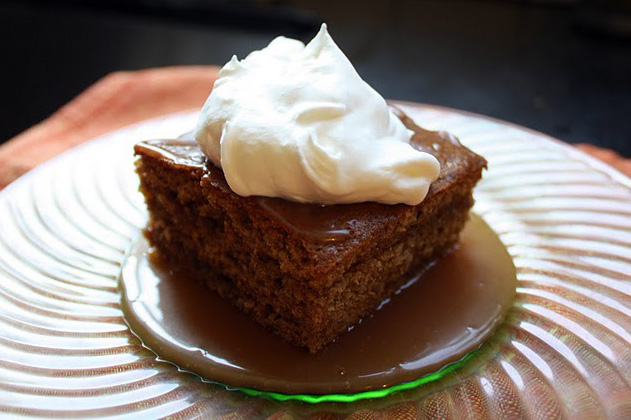 My two best finds in England? Becky and sticky toffee pudding. Becky is a Brit and a cherished friend. She is also whip-smart and has a laugh that fills a room. I was reminded of that last week. Mike and I met up with Becky for lunch whilst in London on a visit. Such a treat!
I was also reminded of the first time I'd eaten sticky toffee pudding. It was Becky's birthday and I had strong-armed my way into a reservation at the, then, most popular spot in town, The Ivy. I may have insinuated that I was a food writer. I can't remember. It was 10 years ago and not entirely a lie; my diary is loaded with food descriptions…as far back as the 6th grade. I have since eaten sticky toffee pudding hundreds of times but none have been as good. The Ivy didn't invent it but they sure did perfect it. Almost. I have made a few additions to their recipe along the way that give it a bit of a kick, a more modern flavor if you will but it is them and Becky that I have to thank. I was one small fib away from never knowing the beauty of sticky toffee pudding
For my final, in culinary school, I made sticky toffee pudding into a composed dessert with bourbon hard sauce and cocoa nib tuile all wrapped in a caramelized sugar cage. It was beautiful and earned me high marks but way too fussy for everyday enjoyment. This recipe is not complicated, but it is a bit time-consuming. It takes a bit of advanced planning, but I promise, it is worth it.
sticky toffee pudding
ADAPTED FROM THE IVY COOKBOOK
for the date puree
375gr stoned dates
375ml water
1/2 inch knob of peeled ginger kept whole
Simmer the dates and ginger in the water over low heat about 15 minutes until they are very soft and the water has almost evaporated. Remove the knob of ginger and discard. process the remaining water and dates until very smooth.
for the toffee sauce
640 ml heavy cream
340 gr granulated sugar
130 gr corn syrup (optional)
130 gr unsalted butter
generous pinch of kosher salt
1 tsp vanilla
Pour half the cream, sugar, corn syrup (if using), butter and salt into a thick-bottomed pan and mix well.  Bring the sauce to a boil, stirring with a wooden spoon, and continue to boil until it is golden brown.  Remove from heat and allow it to cool slightly. Whisk in the remaining cream and vanilla. Set aside.
for the sponge
130 g unsalted butter–room temperature
375 g dark brown sugar
3 eggs
1 tsp vanilla
450 gr bread flour
10 gr baking powder
3 gr baking soda
3 gr kosher salt
1/8 tsp ground clove
1/4 tsp ground ginger
1/4 tsp ground cardamom
Grease and line a baking tin measuring approximately 30x24x6cm, with parchment paper. Sift together the flour, baking powder, baking soda, salt, clove, ginger, and cardamom.  In a mixer cream the butter and sugar until light and fluffy.  Add eggs one at a time, do not allow the mixture to separate. If it does, add a bit of flour to bind it back together. Add vanilla. Scrape the sides of the bowl and beat until the mixture is smooth.  Fold in flour mixture until smooth.  Add the warm date puree and mix well.  Spread in prepared tin and bake for about 45-50 minutes at 350. Use a cake tester to ensure you do not overbake.
To assemble
Once cooled, remove the cake from the tin and trim the edges.  Slice horizontally into 3 and reassemble in the baking tin, spreading two-thirds of the sauce between layers. Just before you are ready to serve, place the cake back in a 350 oven for about 15 minutes, then cut into equal servings.  Top with remaining toffee sauce. You can serve with softly whipped cream, creme fraiche, soured cream or ice cream.
**You can also make these into cupcakes. Bake as normal and before they are completely cooled, poke holes in them and pour in the toffee sauce. Allow it to seep in and pool on top.  Serve with a dollop of whipped cream.