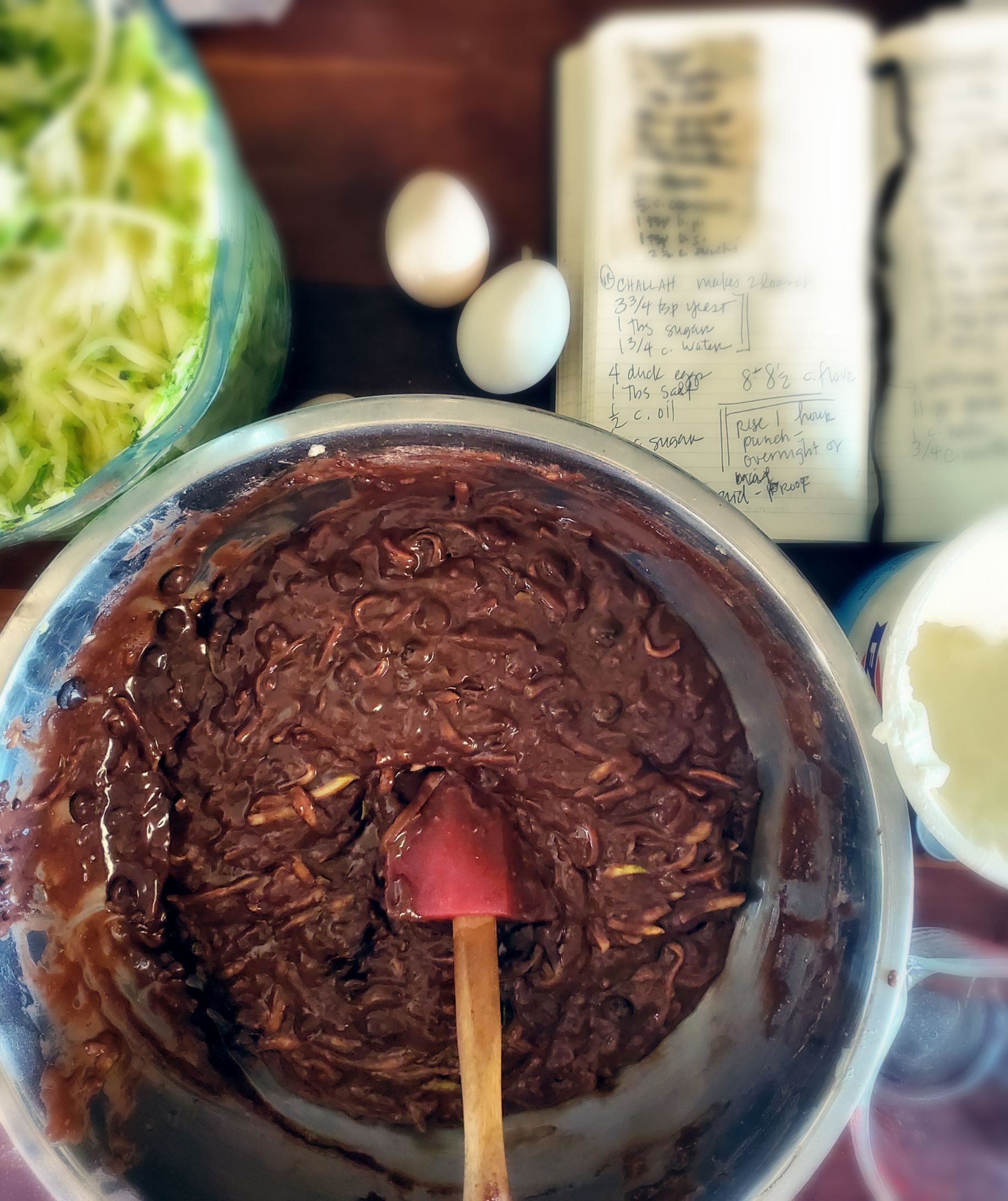 I must admit that the provenance of this recipe or idea of it anyway came from elsewhere. I have been making it for so many years and have futzed with it along the way, that I have no idea where it all started. It has become a favorite of ours and our farm stand guests mostly because it lives under the guise of being healthy. You know, with it being loaded with veggies and all.
We grow a ton of zucchini here. This is a story told by anyone who successfully grows zucchini. We are all trying to unload our bumper crop by mid-summer to anyone who makes eye contact. It is a prolific and delicious vegetable that is difficult to stay ahead of. Now that I grow my own, I am always amazed at the perfect (and small) grocery store versions of them. I imagine they must pay people to sleep in the field with a ruler in hand and harvest at just the right moment. Mine are always imperfect and sometimes downright giant. This cake is filled with grated zucchini. It can be a perfectly beautiful one or a monster from your garden, but I do recommend that you have more flesh than seed when grating.
The recipe calls for oil and duck eggs. I have had success using vegetable oil, olive oil and lard. I have not made this recipe with butter, nor have I substituted apple sauce and cannot endorse either. As for eggs, I use duck in most of my baking. For this rustic cake, I would use large or extra large chicken eggs if you cannot find duck. If you cannot find large or extra large, you can use what you have. It may alter the result, but it shouldn't ruin it. If that just won't work for you, look up the weight (liquid weight) of a, extra large chicken egg, multiply by two and then weigh the eggs you have until you get to the number you need. If you end up needing only half of your egg–whisk it before measuring. Baking is a science, but its not a science fair.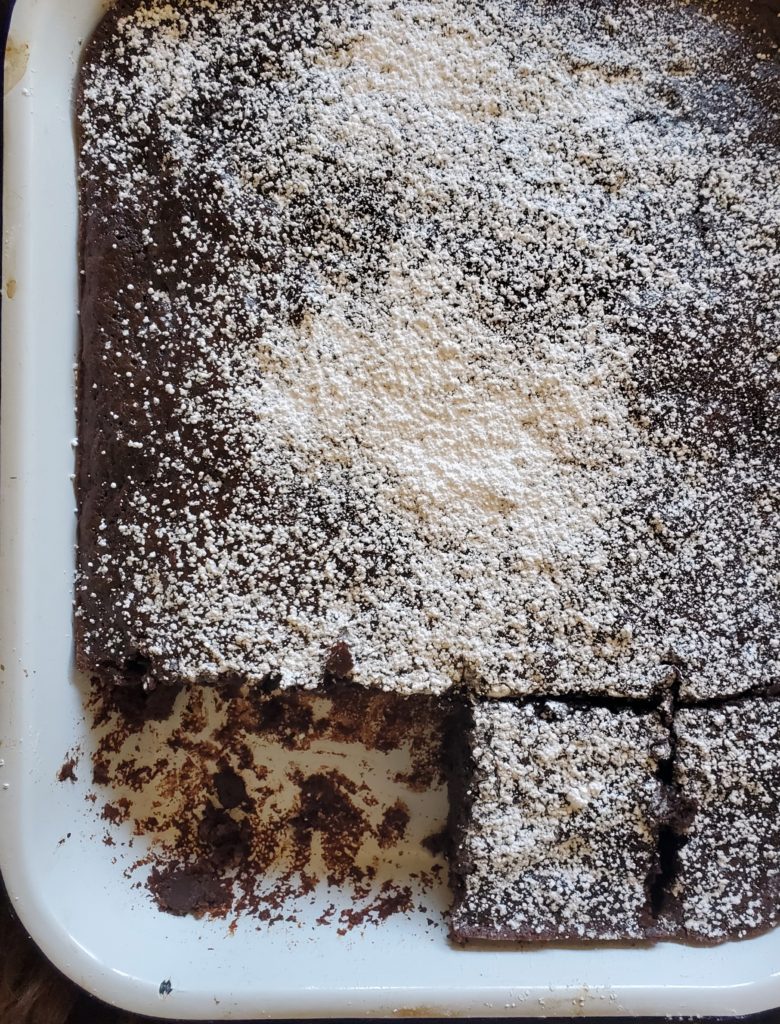 You will want to sneak this into your lunchbox on-the-daily despite it being loaded with veggies
Chocolate Zucchini Cake
2 duck or extra large chicken eggs
2 cups granulated sugar
1/4 cup lard (melted) or oil of your choice
2 tsp vanilla extract
3/4 cup plain yogurt
1 tsp kosher salt
2 cups all-purpose flour
1/2 cup cocoa powder
1 tsp baking powder
1 tsp baking soda
2 1/2 cups grated zucchini
1 1/2 cups bittersweet chocolate chips (you can add more or less to your individual taste)
powdered sugar for decoration
Prepare an 8×13 high sided baking pan with vegetable spray or butter and preheat the oven to 350F.
In a large bowl, whisk the eggs and sugar together until they are well incorporated and they begin to lighten. Add the lard (or oil) and whisk until fully emulsified. Whisk in the yogurt and extract and give it a good 30-second workout. Switch to a wooden spoon or spatula and stir in the salt, flour, cocoa powder, baking powder, and baking soda. Do not over mix, but make sure everything is incorporated. Stir in the zucchini. If your cake mix is stiff, add up to 1/4 cup of water to help loosen. You do not want it to be runny, it should be the consistency of warm pudding. Add chocolate chips and tip into your baking tin. Bake for approximately 45-50 minutes. It is done when the top is resistant to your touch or a cake tester comes out clean. Remove from heat and allow to cool. Sift a bit of powdered sugar on top and serve straight from the pan. a
If I am to be honest, this cake gets about a 30-minute respite in our house. It is lovely served warm accompanied by a cold glass of milk