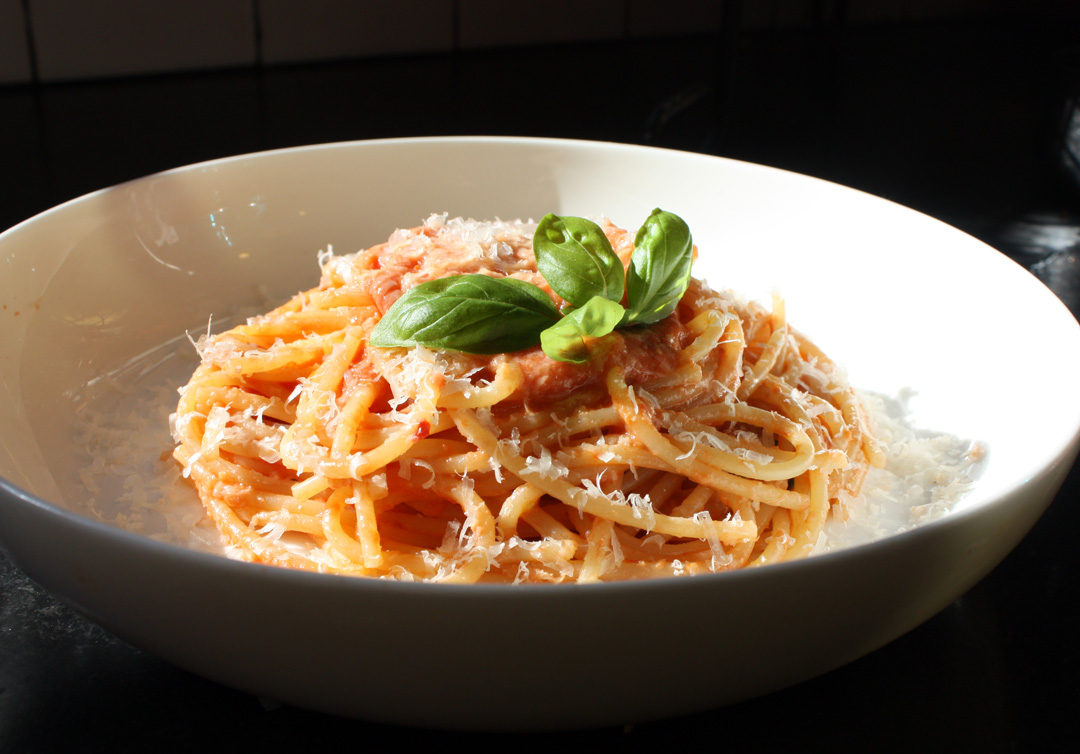 My grandmother was famous for her alla vodka but not exactly like this. For one thing–she was a traditionalist and used penne. She also didn't make her own tomato-infused vodka because she was a widow raising kids, with limited amount of time on her hands.  Not all sorts like I do (she says with her tongue firmly in cheek). Our garden produced so many late harvest tomatoes that I found myself using them in a variety of ways; sundried, oven-roasted, confit, and soaked in vodka.
Tomato Infused Vodka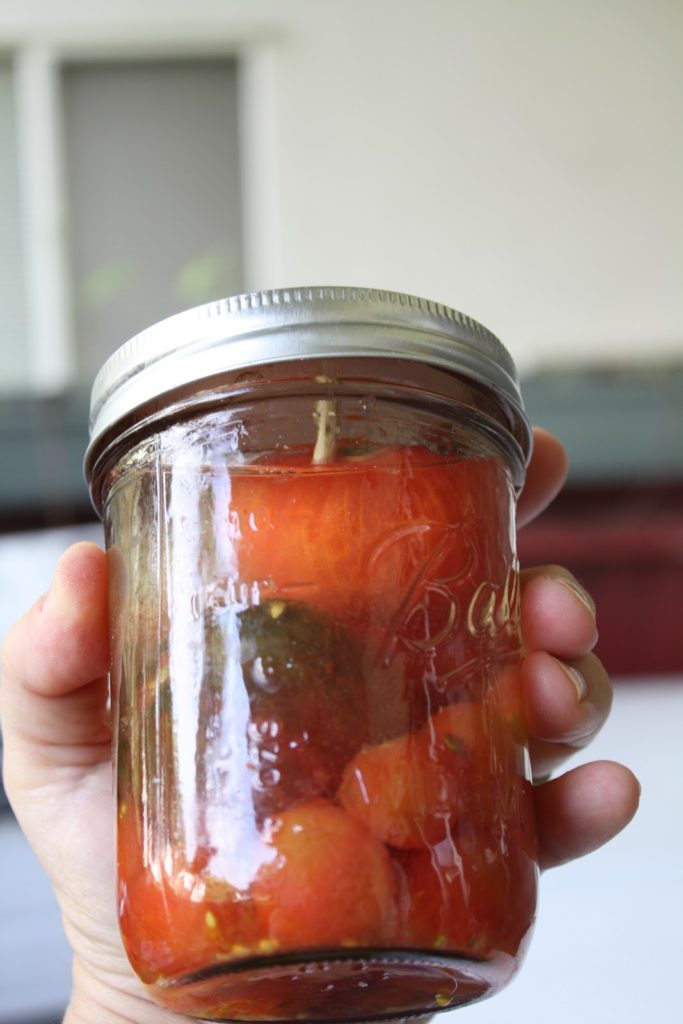 This is really simple. Peel tomatoes and cram into a jar, use a skewer to secure tomatoes if they start to float to the top. Fill the jar with vodka and store in the refrigerator for at least 5 days. I make several jars because I like to use the tomatoes and the vodka for my sauce. Leftover vodka is really great for a bloody mary.
Alla Vodka
1 lb spaghetti or pasta of choice
olive oil
1/2 of small onion–finely diced
2 garlic cloves–finely diced
6-8 basil leaves–chiffonade
1 large tin peeled whole tomatoes or combination of vodka soaked tomatoes and tinned tomatoes to equal about 4 cups whole
1/2-1 tsp crushed red pepper flakes
1/2 cup tomato soaked vodka (or another vodka you have on hand)
1/2 cup heavy cream
1/4 cup grated parmesan plus more for serving
Cook pasta in salted water, according to package instructions. Saute onions and garlic in olive oil over low heat, careful not to brown, but allow to get translucent. Meanwhile, place the tomatoes in a food processor or blender and pulse until smooth. When the onions and garlic are ready, add the tomatoes and vodka and let simmer for about 10-15 minutes. Add the basil, red pepper flakes, and heavy cream. Allow to heat through then stir in parmesan, and toss in the drained pasta. If the sauce seems too thick, use a bit of the pasta water. Shave a bit of parmesan on top of each individual serving, along with additional crushed red pepper, if you like spicy.