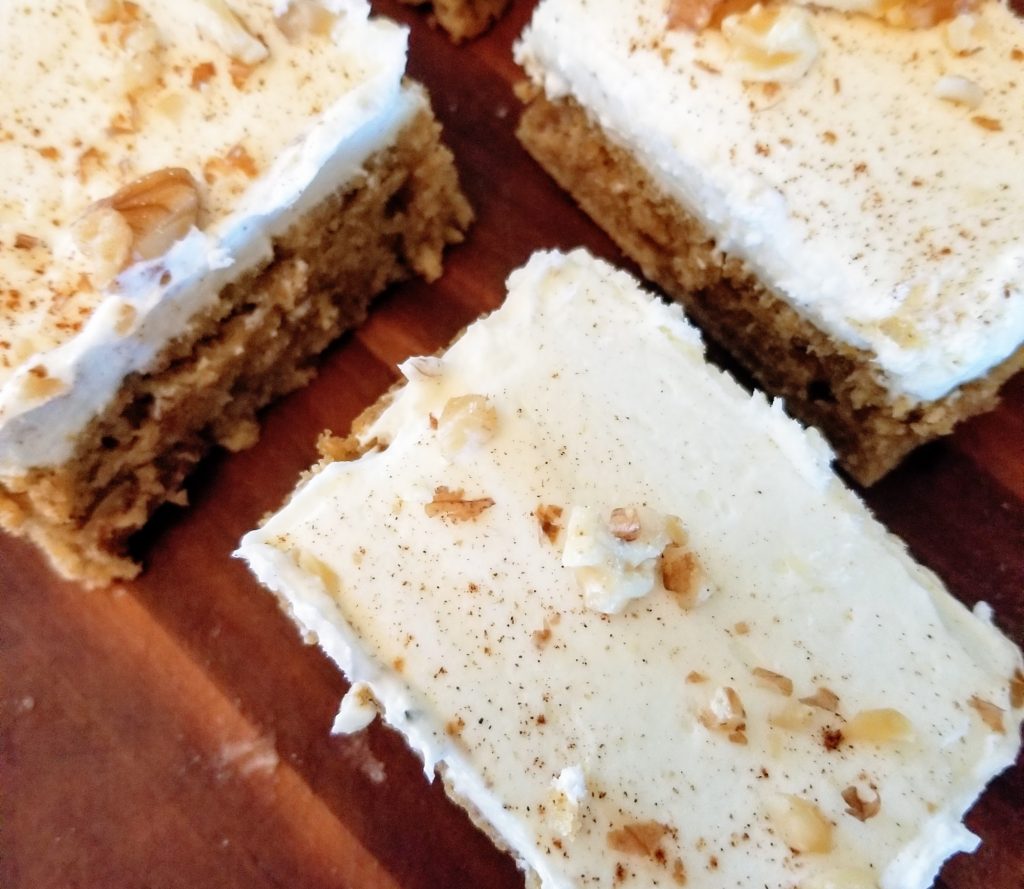 Living in California affords us a "winter garden." All my favorite roots and brassicas are thriving in our cold, but not bitter-cold, temperatures. The other day, I found myself with dirty nails and an armload of parsnips.
After a few snaps of frost, parsnips (left in the ground) can become quite sweet and are a delicious addition to a cake heady with spices. Mostly because I can, I like to ice this cake with a nice thick cap of snowy cream cheese frosting, a sprinkle of spice and just enough walnuts to let people know it is a nutty cake.
While you can play with the pan size to make it quite high, throw into a loaf, or double to make a lovely layer cake, I like it best when it is unfussy and almost more of a slice than a cake. This way, as I reach for my second helping, I don't feel nearly as gluttonous. After all, it does contain a vegetable.
Before you get started, I need to talk to you about the frosting. You may hate me for this, but in my not so humble opinion, cream cheese frosting should taste like cream cheese, not like sugar. This is why my recipe has a "to taste" caveat on it. I start very slow with the sugar and add as I see fit. Yes, it should be sweet, but just at the mark of sweet, not sugary sweet. You can disagree with me and pile the sugar in, it's your choice, but I think you will be just as happy with something that has a nice tangy kick to it.
This cake recipe is adapted from Bon Appetit 2006
Parsnip Spice Cake with Cream Cheese Frosting
CAKE
1 1/2 cups all-purpose flour
1 cup granulated sugar
2 tsp baking powder
1 Tbs ground ginger
1 1/2 tsp ground cinnamon
1 tsp freshly ground nutmeg
1/2 tsp ground clove
1/2 tsp ground allspice
1 tsp kosher salt (i prefer diamond crystal)
3 large or extra-large eggs (duck eggs work great)
1/2 cup olive or vegetable oil
1/2 cup whole milk
1 tsp vanilla extract
2 cups grated parsnip–grated on small holes of a standard grater–packed down
1/2 cup walnut pieces–toasted
Place all of your dry ingredients (including sugar) in a bowl. In another bowl whisk together the eggs, oil, milk, and vanilla. Pour into the dry ingredients and whisk until just incorporated. Stir in parsnip until incorporated, then stir in walnuts.
Pour into a pan of your choice (13×9 makes a cake that is about 1 1/2 inches thick). To prepare your cake tin, grease, then line bottom with parchment paper (i also cut strips for the side of the pan for extra insurance), then grease again. Bake at 350F until done (top is springy) about 25 minutes. I set my timer at 20 minutes and check, then add minutes or pull out of the oven if finished. NOTE: A loaf pan and/or smaller pan for thicker cake will take longer because of less surface area. Please keep this in mind. Let cool completely on baker's rack.
FROSTING
16 ounces cream cheese–room temperature
8 ounces unsalted butter–room temperature
generous pinch kosher salt
1/4 cup toasted and chopped walnuts
a pinch of cinnamon
a pinch of ginger
powdered sugar to taste (start with 1 cup and add 1 tablespoon at a time)
Using the paddle attachment on an electric mixer, cream the butter and cream cheese until fully incorporated. Add the salt and mix again. Add powdered sugar and mix until completely incorporated. Check for sweetness and add more sugar if desired. Mix until it is light and fluffy. Place into a large piping bag. Cut the tip off the bag giving you approximately an 1/2″ hole in the end and pipe even lines across the cake. Use a spatula to smooth the frosting, careful to keep at an even level. You are looking for a frosting layer of about 1/4 to 3/8 of an inch. Sprinkle the cinnamon, ginger and walnuts over the top.
NOTE: If you are a warm cake fan and like to serve dessert in the vein of an English Pudding, you can serve this cake warm with a bit of custard or double cream. Alternatively, you can use the cream cheese icing and let it melt into a puddle; it will be just as delicious.