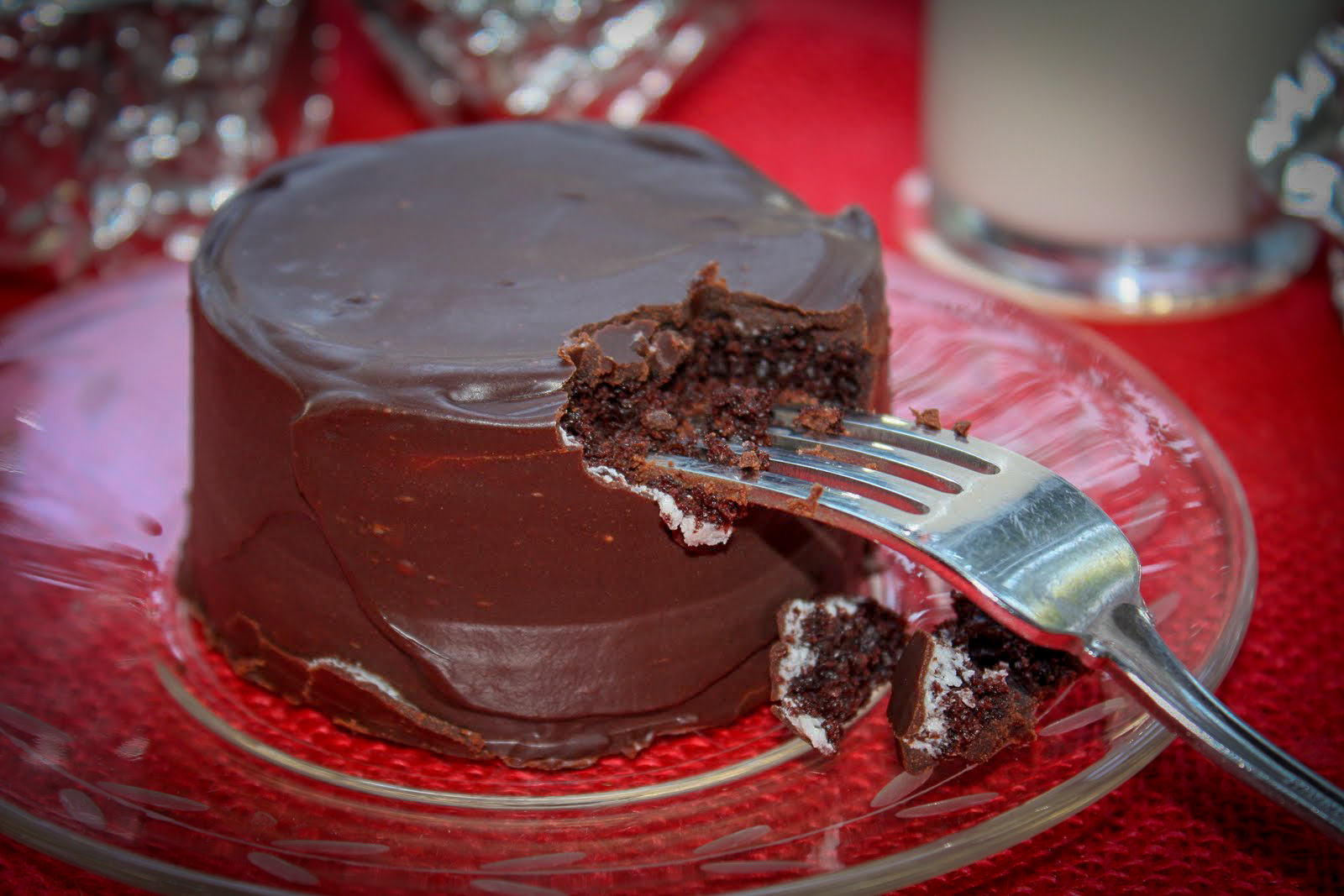 Why I have nostalgia for snacks I never actually ate as a kid is something for me to take up with my therapist. And when I say "my therapist", I actually would be referring to my cat, or dog, or husband, or any poor soul who happens to be in the room listening to my audible reflections.
My mom did not allow "junk food" in her house. We had sweets, but everything was always made from scratch, and was mostly for special occasions. Snacks were cheese or a piece of fruit. Candy was for halloween, and ready-made cream filled cupcakes were for other people.
As a kid, I was always so envious of the kids with the silver wrapped delight in their lunch, while mind held an orange, or a christmas cookie; whiich is how I made it well past my 18th birthday before I ever had a ding-dong.
Without belaboring the point, skip the store-bought and make your own. You won't be sorry.
devil's food cake
3 oz bittersweet chocolate chopped
1 1/2 cups hot coffee or hot water or mixture of the two (i use espresso with water)
3 cups granulated sugar
1 1/2 cups cocoa powder
2 1/2 cups flour
2 tsp baking soda
1 tsp baking powder
1 1/4 tsp kosher salt
3 extra large eggs
3/4 cup vegetable oil
1 cup sour cream + 1/2 cup milk or 1 1/2 cups buttermilk
1 tsp vanilla

melt bittersweet chocolate in hot water/coffee. Sift dry ingredients together (including sugar). Mix together the chocolate/coffee mixture, milk, sour cream and vanilla. In a mixer beat the eggs with the oil until thickened and doubled in volume (about 3-5 minutes). Alternately add the dry and wet ingredients to the mixer, beginning and ending with the dry ingredients. Mix until just incorporated.Bake in 2-9″ rounds that have been prepared with cooking spray and lined with baking paper.
*note…for ding dongs, i make in a sheet pan and use a cookie cutter to cut the rounds.
Oven temp should be 350 and bake until tester comes out clean. For the sheet pan, it will go fast…about 20 minutes. For the cake rounds allow about 50 minutes, but check on it after 30 minutes.
creamy filling
1 cup milk
5 Tbs flour
1 1/4 cup powdered sugar
1/2 cup shortening or lard–room temperature
1/2 cup unsalted butter–room temperature
1/2 tsp vanilla
pinch salt
Over low heat, cook milk and flour in a saucepan until it makes a thick paste. Use a whisk to break up lumps. Let cool. In mixer using whisk attachment, beat shortening, butter, sugar, salt and vanilla. Add in cooled flour paste and whip until light and fluffy. Add more sugar if you want a sweeter taste.
ganache
1/2 lb bittersweet chocolate–chopped
1/2 cup cream
1 Tbs granulated sugar
1 Tbs corn syrup
2 Tbs butter
Heat cream with sugar and corn syrup over medium heat. Once cream begins to simmer and sugar is dissolved, pour over chocolate and butter. Let chocolate melt and then whisk together until it is thick and shiny
assembly
Cut rounds of the chocolate cake. Spread a layer of filling on top of one round and top with a second round. Fill in nooks and large gaps with a bit more filling. Place in fridge to harden.
Meanwhile make ganache.
Set cakes on a cooling rack over a lined sheet pan. Pour ganache over cooled cakes and gently tap the rack to move the ganache over the cake. Use a small spatula warmed over a flame to nudge and smooth out the ganache. Let cool at room temp or in the fridge if you are in a rush. You may loose some of the gloss if you refrigerate. Serve as is, or wrap in foil for authenticity