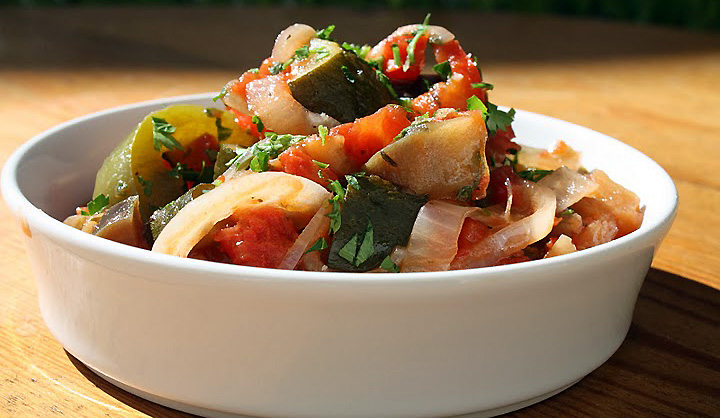 All too often I fill my canvas tote with fresh from farm produce. I bring it home, lovingly display it, and then succumb to the reality that father time ages it faster than we eat it. I find myself racing time. Such an event happened today with a good ol' fashioned crisper raid.
Ratatouille
olive oil
1 medium onion-thinly sliced
3 cloves garlic–chopped
1/4 cup red wine
1 red bell pepper-julienne
1 medium eggplant–cut into cubes
2 zucchini–cut into rounds
3 cups diced tomatoes–fresh or canned
1/2 tsp dried basil
1/2 tsp dried thyme
1/2 tsp dried oregano
pinch red pepper flakes
about 1/2 tsp sea salt (more or less to taste)
1 generous Tbs balsamic vinegar
2 Tbs chopped fresh parsley
Heat a small stock pot over low flame. Add enough olive oil to lightly coat the bottom of the pan. Toss in the onions and garlic and cook until they soften. Add in the eggplant and red pepper and give them a good toss. Cook for about 10 minutes. Stir in the red wine and cook for about a minute more. Finally, add in the zucchini, diced tomatoes, basil, thyme, oregano, red pepper flakes and salt. Give a good stir, cover and cook for about 25-30 minutes. Periodically give a good stir to the pot. Once the vegetables are soft, but not falling apart, remove from heat and stir in the balsamic vinegar and fresh parsley. Taste for salt and add if necessary. Serve hot, warm or room temperature.