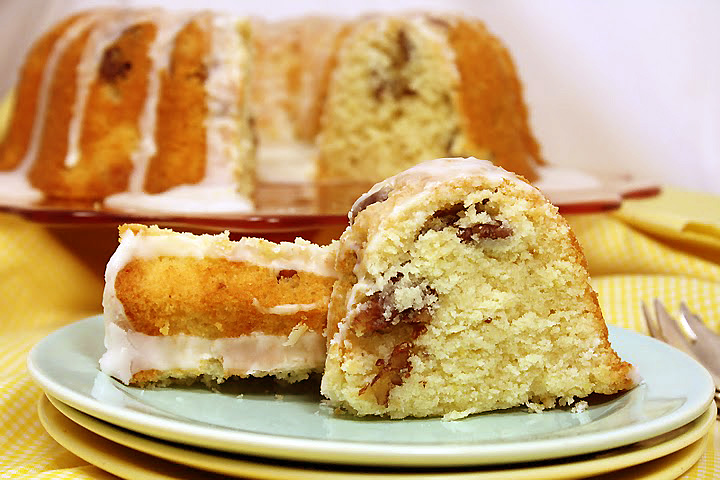 March 4th is national pound cake day. Don't roll your eyes. It is legit. I read it on the internet. Before my great aunt passed, I borrowed her box of tattered and stained recipe cards and copied each one into a book of my own. My aunt rose baked a great pound cake. Several actually. All different. All delicious. For national pound cake day, I borrowed a recipe from her, with a few substitutions.
Lemon Pecan Mascarpone Pound Cake
1 1/2 cup unsalted butter–room temp
4 oz mascarpone cheese–room temp
1/2 tsp kosher salt
1 1/2 cups sugar
4 large eggs–room temp
1 tsp vanilla
2 tsp lemon zest
1/4 cup + 1 Tbs lemon juice
2 1/4 cups flour–sifted
2 tsp baking powder
1 cup toasted pecans
Cream butter and mascarpone until very light. Gradually add sugar and beat thoroughly, about 2-3 minutes. Add eggs one at a time, scraping down sides in between additions. Beat for an additional 2-3 minutes after you add the last egg. Beat in vanilla, lemon zest, lemon juice and salt, until fully incorporated. The batter may look curdled, which is okay. Blend in the sifted dry ingredients (flour and baking powder) and mix until silky. Fold in pecans. Bake in a greased pan (10 cup capacity) at 325 for about 60 minutes. If you separate the batter into smaller pans, bake for considerably less time.
Once cool frost with icing made from powdered sugar mixed with lemon juice. Add enough lemon juice to make a drippy icing with good lemon flavor.