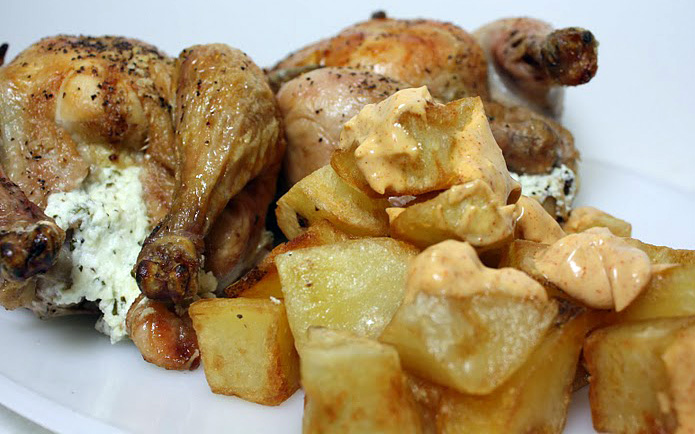 Yesterday I was editing my photos from our trip to Spain and I came across this photo of patatas bravas; which we enjoyed surrounded by the bustle of La Rambla and a darling waiter whom was leaving fake euros under chair legs as a tease. He was getting much more joy from the fake-out than the actual and generous, I might add gratuity we left.
I immediately had a craving. Hubster is a meat and potato kind of guy and I  am a potato and potato kind of girl. If I were making this just for me I would round this off with a glass of red wine and a good read, but such is not the case. I am accompanying them with cornish hen stuffed with creamy and herbed cheese. If you can't find game hens, or you don't like them, you can easily stuff a chicken breast or thigh with the cheese mixture.
cornish hen
2 cornish game hens–cleaned and dried
1/4 cup chevre–room temp
1/2 cup cream cheese–room temp
1/2 tsp black pepper
2 cloves garlic-pulverized to paste
1 Tbs chopped fresh chive
1 tsp chopped fresh parsley
1 lemon
salt and pepper to taste
olive oil
Mix together the chevre, cream cheese, pepper, garlic, chive, and parsley.  Split into two portions and stuff into the cavity of each hen; truss it up.   Place in a roasting dish and squeeze lemon juice over the hens, then toss the lemon into the roasting pan. Drizzle a bit of olive oil over the hens, sprinkle with salt and pepper.  Roast in 400F oven for about 30-40 minutes (depending on size).
Patatas Bravas
2 russet potatoes–peeled and cut into chunks
olive oil
AIOLI
1  large egg yolk
3 cloves garlic–finely chopped
2 tsp lemon
1/4 tsp salt
pinch sugar or drizzle of honey
1/4 tsp paprika (smoked or sweet)
1/4 tsp cayenne (optional)
1/2 cup olive oil
Place potatoes in a pot of cold, salted water.  Boil until you can easily pierce– do not overcook.  Drain and let cool. Make sure they are dry.  Heat oil in a heavy pot and fry potatoes in oil until golden brown. Drain on kitchen paper and serve with aioli.
FOR AIOLI–place egg yolk, garlic, lemon juice, salt, sugar or honey, paprika, and cayenne (if using) in a blender.  Blend until smooth.  Slowly drizzle the olive oil until it comes together like a thin mayonnaise.  Taste for spice.

NOTE:  If there is NO WAY you are going to make aioli or don't want to use raw eggs…then do this: put 1/2 cup mayonnaise, 1 large garlic clove–crushed to a paste), 1 tsp lemon juice, pinch sugar, 1/2 tsp paprika, and as much cayenne as you like in a blender and whirl it until everything is really smooth.  This will taste delicious!